"Give Me A Break!"
Florida: where teachers go for vacation…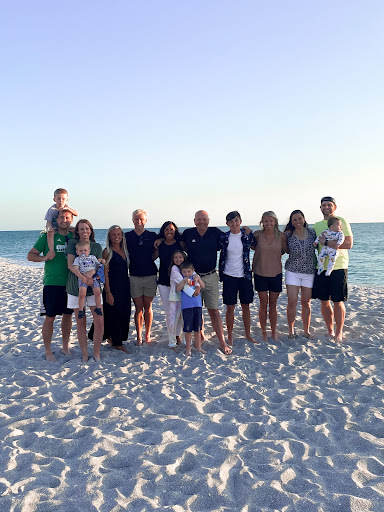 Every break from work or school is something people look forward to–especially students and teachers. Winter break is a time to get away from the cold weather of the Midwest. And, it is an ideal way to celebrate the holidays.
The holidays are great times to celebrate with loved ones, relax a little bit, and have fun–no matter where one is. Many teachers are going to be traveling over winter break to either visit family or celebrate somewhere new. Mrs. Kelly Buckley says, "Our family is headed to Orlando for Christmas. We're going to visit Mickey, Minnie…and our daughter!" Her daughter Katie is an intern at Disney World, and this is Buckley's "excuse to see the sun!" Mrs. Tracey Weirich is also going to Disney World, for five sun-filled days. "We have been to Disney World more times than I want to admit," Weirich notes. She also adds that there is always something new to do each time they go.
Mr. Randy DeShone is also going to Florida, like many Hoosiers during the holiday season. For him, it is a true family affair. "The entire extended family goes every year!" DeShone explains. This tradition is something they all look forward to as a way to stay connected in a relaxed atmosphere. Clearly, it seems as though many in Indiana have chosen Florida as their vacation destination for the 2021-2022 school year. Mr. David Hicks is yet another teacher who has chosen to visit the Sunshine State to have a relaxing holiday break. However, he has chosen a slightly different destination. Hicks is planning to hang out on the beach Fort Myers for the entire two weeks.
It appears that the most popular vacation spot this year goes to Florida, but is that really a surprise? According to Florida's tourism website, Florida received over 94.7 million visitors over the course of 2020–with Orlando as the 18th most popular U.S. vacation spot and Miami Beach sits at a comfortable 14th place.
Any bets on how many Elkhartans figure in to those statistics?