Some "A-Mazing" Places To Visit This Fall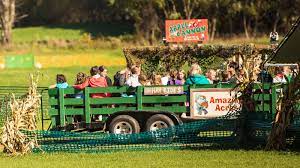 Fall Break kicks off this week, which might be the perfect time to explore a few places in driving distance that are perfect for a fall road trip.
Pumpkin patches and corn mazes provide hours of fun. Pumpkin carving is a tradition in many households, but it begins by first selecting the perfect pumpkin. While pumpkins can be purchased at any Wal-Mart or grocery store, nothing can beat the experience of selecting one right from the field. The Midwest fields are also filled with corn stalks–which means that corn mazes are also plentiful this time of year. 
Crossing into Michigan, A-mazing Acres in Edwardsburg is a popular destination. With corn mazes, a pumpkin patch, and even a petting zoo, A-mazing Acres is the perfect place to spend an afternoon with friends. Heading in the other direction, Kercher's Sunrise Orchard in Goshen is another great destination for fall-loving folks. With apple picking and hayrides, this is a great location for memories. They also have a store with all sorts of apple candies and pumpkin spice delights. Kercher's also includes a pumpkin patch, right next to a corn maze. 
Junior Hannah Teich says, "A-mazing Acres is a great place to spend quality time with your family". She also compliments the food and the employees. "I would highly recommend a trip up there some day."
Those willing to travel just a bit further may love the colorful drive to Butler Tree Farm in Dowagiac, MI. It offers many opportunities for fun, including pumpkin picking and petting zoos. Butler Tree Farm also has a bake shop with wonderful cookies and many types of fall treats. Looking for a camping trip? They also have a few available cabins–complete with firewood! The tree farm is a family-run business and offers several activities for all ages to enjoy. And, for a little more holiday spirit, go back at Christmas for an equally festive adventure while picking out a tree.
With all of these options within an hour's drive, every weekend this fall should be filled with memories that last forever. So, why not take some friends and enjoy the weather before it gets too cold!