Chi-Town Is Not Shy About Removing Green Space At Navy Pier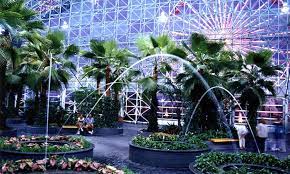 Chi-Town: Home to the Art Institute, the Magnificent  Mile,  and the Chicago Bears. What it will not be home to much longer is the Crystal Gardens–one of the main attractions on Navy Pier.
The Crystal Gardens is a six-story glass atrium with 80 soaring palm trees, monstera plants, and other tropical plant life. Sadly, it is going to be torn down in early to mid-2022. In its space will be constructed a new exhibit called "Illuminarium." This exhibit will offer a virtual reality experience–minus the glasses–intended to "immerse" spectators with the sights, sounds, and smells of a featured environment. The first "experience" is called "Wild," which will transport all into the wilds of Africa.  Then, it's off to space with "Spacewalk." This adventure will  "rip through the solar system."
Although the Illuminarium does sound like a very amazing experience, many are wondering if it is worth tearing down a gorgeous green space that is free to the public. "Why would they remove such an iconic piece of the Navy Pier?" questions sophomore Silas Hunt irritatedly. "It's a calm place to visit, and it's free to visit!" Looking to the bright side,  though, Hunt adds this about the new attraction: "Since it's indoors, people could also go in the winter!"
Hunt is not the only one irritated by this decision. In fact, many people in Chicago were outraged when they first heard the news, noting that in a city like Chicago, there isn't much green space available. One Chicago resident–Celine Wysgalla–shared her reaction to a local news outlet. In the report, she notes that the Crystal Gardens would have been the perfect wedding venue for her and her fiance, but when she tried booking it, she found out that it would be permanently closed by her wedding date. After finding more information, she decided to make an Instagram account to start a petition against its removal. As of Oct. 6, Wysgalla's petition has gotten over 21,500 signatures, and her Instagram account has gained over 1,400 followers. 
Wysgalla has also  reached out to the Navy Pier about moving the Crystal Gardens elsewhere. She mentioned the IMAX theaters that closed during COVID and suggested that they could construct the Illuminarium there instead. Hunt agreed with Wysgalla. "That sounds like a great idea, and I think that most people would agree with it." However, Navy Pier responded by saying that the theater was being reviewed for other business proposals. 
So, for now, people visiting Chicago can still enjoy the lush green surroundings of the Crystal Gardens. But, they had better not wait to long to do so. Or, they may mistakenly find themselves in the wilds of Africa or soaring throughout space!