Following the Beat of Your Own Drum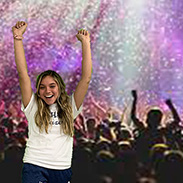 Just like the music industry itself, there are as many styles of music as there are types of concerts. Each person has to just go to the beat of his own drum.
Usually the type of concert depends on the artists and the style of music they play. An artist such as Ed Sheeran, who plays at sold-out arenas and stadiums, tends to have concerts that are calmer and more intimate because the music he produces is usually acoustic. Yet, most of the time, well-known artists have concerts that are over the top: larger than life screens so that the vast number of fans can see them no matter how far from the stage they might be and lights that flash in psychedelic beat with whatever song is being played.
Whether a person likes to go to a crowded, lively concert for a popular artist or a smaller, laid-back concert of an up-and-coming artist who is not that well known yet, concerts are an enjoyable experience to break up the monotony of everyday life.
Frequent concert goers may be happy to know that a place close to home is starting to be a hot-spot for artists to add on their tour. The University of Notre Dame has begun to host concerts for well-known artists such as the Chainsmokers or Tim McGraw, who both performed in Joyce Center, or famous country singer Garth Brooks, who performed at Notre Dame Football Stadium just one year ago. Recently, Notre Dame has announced that singer Billy Joel—the Piano Man himself—will be the next to perform at Notre Dame Stadium in June 2020.
It doesn't matter the generation, anybody can go to a concert and have fun. Kaila Chavarria, 11, who has been to numerous concerts, shares her views: "Concerts are such a cool experience because you're surrounded by people who feel the same way about the artist and even can become friends with them. Personally," she adds, "I like loud, crowded concerts because the music just sounds different when it's blasting and the artist is singing it live."