It's The Most Wonderful Time Of The Year…For Music!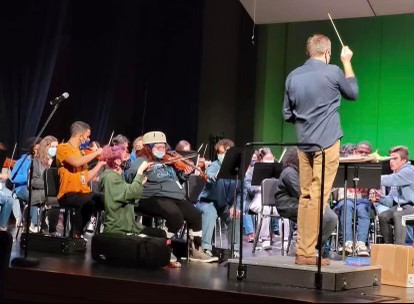 It's the most wonderful time of the year… for music!
It's about that time for the Elkhart High School Music Department to bring joy to start off the holiday season. 
On Dec. 14, 2021, the Elkhart High School Music Department will be playing an array of seasonal music that include Madrigal singers performing Masters in This Hall and Throw the Yule Log On Uncle John. The Jazz Band will perform Frosty the Snowman, A Charlie Brown Christmas, and Comfort and Joy. The Select Chorale group is going to perform Come In from the Firefly Darkness and Rudolph the Red Nosed Reindeer, Chamber Choir & Select Chorale group are performing along with the Elkhart High School Symphony Orchestra on Winter Lullaby. Chamber Choir will be performing Carol of the Bells; following is the Elkhart High School Symphony Orchestra with It's the Most Wonderful Time of the Year, including new musicians in the United Sound, Christmas Eve/Sarajevo 12/24, It's The Holiday Season with the groups Chamber Choir and Wind Ensemble, and finally the Wind Ensemble will performing I'll Be Home for Christmas and Fanfare and Procession on an Old English Carol. 
Katie Huang, Elkhart High School senior and concert master, says, "I think there's a good mix of pieces, some sweet somber pieces and some upbeat traditional holiday pieces. I think it's a good mix." It's The Most Wonderful of the Year includes Elkhart High School United Sound group, which includes the special education students who are practicing to be new musicians.
This will be the first Winter Concert for an Elkhart High School Music Department. All groups participating in this concert have been working hard to make sure they are prepared and ready. There have been multiple out-of-school rehearsals, Advisory times, and coming together during class periods to ensure this concert will be one of the best. Huang says, "You never know how it's going to go, but it always turns into a great concert. This time we'll get to run through the concert with everyone and everything. I think there's a good chance it'll be very memorable for the audience and the performers!"
With performing alongside so many other musicians, Huang says, "Being able to play along with a choir and a band isn't something you get to do everyday. So, for those who have only ever been involved with a school orchestra, it creates a different experience." The people behind the Elkhart High School Music Department include the following, Mr. Bret Winternheimer, Wind Ensemble Director; Mr. Jeff Reinert, Select Chorale Director; Mr. Josh Hren, Chamber Choir & Madrigal Singers Director; Mr. Jake Robaska, Jazz Band Director; Mrs. Tracey Weirich and Mr. Kyle Weirich, United Sound Co-Directors: and finally, Mr. Kyle Weirich, Symphony Orchestra Director. Individual tickets are $3 and family deals up to five people are $10. They invite family and friends to come see the Elkhart High School Winter Celebration Concert!