New Spider-Man Movie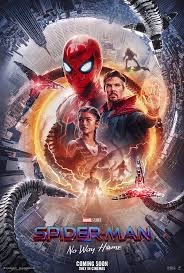 The new spider man movie,
The spider-man: no way home, this is the new spider man movie and it's coming out December 17,2021. This movie is about Spider-Man's identity now revealed, our friendly neighborhood web-slinger is unmasked and no longer able to separate his normal life as Peter Parker from the high stakes of being a superhero. When Peter asks for help from Doctor Strange, the stakes become even more dangerous, forcing him to discover what it truly means to be Spider-Man. 
Little did people know, the third Marvel Studios Spider-Man film almost didn't happen. In the summer of 2019, arguments between the Walt Disney Company and Sony Pictures Entertainment about the former's profit participation in the project seemingly stopped development dead. But however it actually happened, Disney and Sony agreed to produce another Spider-Man film. 
The next Marvel movie might be the last one that Tom Holland stars in. Holland has already called it the "most ambitious standalone superhero movie ever made", and now he has said he never thought it would work.
Alexia Segura (a sophomore) said, "I'm excited to see this new movie, I love watching spider man movies". 
This is not going to be the last "Spider-Man" movie. Spider-Man is going to be the biggest film of the webhead's cinematic career.