Cross Country: Putting One Foot In Front Of The Other
Running Cross has a greater impact on the athletes' lives than on their feet.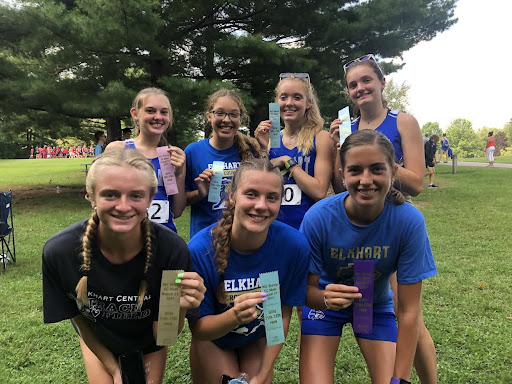 Life so often is just boiled down to putting one foot in front of the other. This especially applies to cross country. 
Long-time runner Adley Keim, a junior, contends that running influences her life in more than just a physical way. She has said that it makes her "tougher mentally." She has also said that running makes her physically stronger and keeps her in shape for her other sports. Keim is a tennis player, track runner, and ex-soccer player. She believes running is a good way to clear her mind after a tough day at school. Running has helped develop more of a positive mentality for herself.
Another long-time runner and swimmer is Rachel Terrell, a senior, who for two years was on the Memorial Chargers Cross Country team. She says that running keeps her in shape for her main sport, which is swimming. The breathing control helps with her asthma. Running has taught her how to push herself past her limits and help her teammates do the same thing. "When I started running," Terrell began, "I thought I was going to hate it, but after you get to know the team, it becomes less about how awful running may be and more about the people you are around that are supporting you and making it more fun." Reflecting momentarily, she adds, "It feels like family."
Experienced coach, Bekah Shenk, who has coached high school track and cross country for the past 11 years, says,"Running has had a very positive effect on my life." She notes that she has grown tremendously and that her personal experiences of racing have helped her be a better coach for her athletes.
Shenk has stated that her main goal for the upcoming meets is to see improvement in everyone. Watching other teams compete and having conversations with their teammates and herself helps them to gain more experience. She finishes off with this thought: "Having this mindset–of what they will do to reach their potential–is in many ways the most important factor in racing faster and building our program."