Startup Moxie Gives Students a Jump Start
Taelor Cox shares how her experiences as part of the Startup Moxie program have given her insights into the business world.
These students are unlike any other. They thrive in a fast-paced environment and embrace the unknown. There is no need for books, pencils, papers, or grades in this classroom; in fact, they're encouraged to "fail forward."
These students are judged based on their efforts and ideas, rather than, the average testing scores. April 21 and 22, after a long time of preparation, the students of Startup Moxie pitched in front of not only their peers but also judges. This pitch provided them with the opportunity to earn potential funding for their business ideas, as well as the opportunity to network with professionals in the Elkhart/South Bend region. 
Taelor Cox, a junior at Elkhart-East, was one of the students participating in this event. For the past school year, Cox, along with her partner, Kaden Sheets, have been tirelessly working on their business idea: KT Designs. KT Designs is an online platform and web builder that will not only build but also update a website. Cox describes pitching as "a little nerve-wracking–because, typically, it's in front of important people who could greatly influence your life."
With this in mind, the students were required to pitch their idea in front of three judges with eight minutes: five for the actual pitch, with three left for questioning. Cox discovered this: "It's hard to condense a whole business that you've been working on for months into five minutes or less." Although it was difficult, Cox came through, presenting a pitch that was well thought out and concise.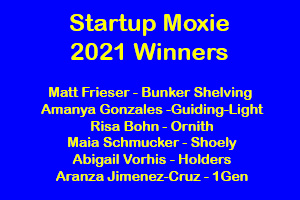 Cox believes that the program has helped her maneuver through the entrepreneurial process. "We have to conduct interviews to find out about current problems, and sometimes you think you're going to solve one problem but then," she confesses, " you find out it actually isn't a problem." Due to its non-traditional setting, Startup Moxie enables students to learn more freely, as Cox can attest. "Learning how to change and adapt was a big part of the entrepreneurial process–and you can't really get that in a typical classroom setting,"
Startup Moxie is by no means an "easy A"; however, it provides one with insight into not only the mind of an entrepreneur but also the world of business. Cox expresses that, for her, the program be invaluable. "It has helped me become more aware of what my passions are, how to network, and that failing only helps you gain experience and knowledge."
As the current students prepare to part ways with this program, current sophomores and juniors are encouraged to apply. If interested, applicants can apply at https://startupmoxieelkhartcounty.org/program/