Teaching from a Distance… of Almost 400 Miles
EHS Chemistry Teacher Mrs. Bertsch teaches Elkhart students from Pittsburgh, Pennsylvania. Get to know more about her and her unique situation.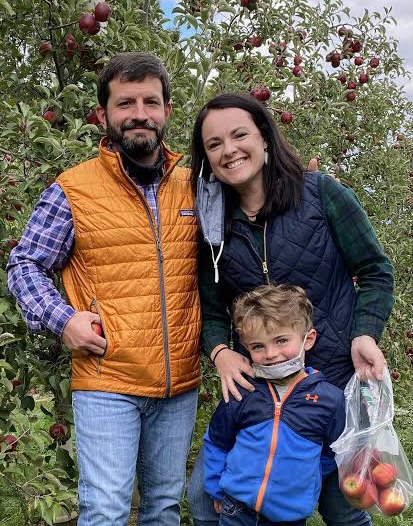 In the current world of Covid-19, teaching has completely been modified. Now teaching and learning can be done from home. But can it be done at a long distance between a student and teacher?
Well yes! Elkhart High School has made this possible. Elkhart High School teacher Sarah Bertsch is teaching chemistry all the way from Pittsburgh, Pennsylvania.
Before moving to Pennsylvania Bertsch taught twelve years at Elkhart after one year at Penn High School. However her move to Pennsylvania was not done just because. "In July 2019 my husband got a new job. He used to work at Notre Dame with the football program, he does Public Relations, and he got a job with the Pittsburgh Steelers, so that's how we ended up here in Pennsylvania," Bertsch explains.
Before starting her long distance teaching Bertsch was subbing for schools in Pennsylvania, until an opportunity came that enabled her work to from home, and allowed her to still be part of the Elkhart community she adored.
Moving all the way to Pennsylvania did not mean losing her love for the community. When she took on the job of long distance teaching she knew students needed her, due to the decrease of teachers not teaching anymore because of the pandemic.
"I have a lot of good relationships with other teachers, administrators, and community members. I also coached soccer when I was there and sponsored NHS and did Ski Club, so I was very involved in the community. So [Elkhart] definitely has a special place in my heart," Bertsch said.
Even with all the support from her community Bertsch still elaborates the challenges that come along with teaching virtually and long distance. A particular challenge is the comfort level between her and the students. Betsch says, "Developing that personal relationship with kids where they feel comfortable with you as a person is just hard to develop through the screen. Students feel nervous about asking questions out loud in class."
Significantly, Bertsch has found a way to still connect with students. Through each of her classes she implements a daily check in form. With this, students have the opportunity to share their thoughts, questions, and feelings with her.
Aside from the struggle of developing personal relationships with students, Bertsch shares the technological issues that often occur during and outside the classroom. "Every time there's just a huge technology malfunction and it just makes it hard to do your job, and it frustrates me because I know it frustrates the students. This learning environment is already stressful for students and I don't want to contribute to that stress," Bertsch explains.
However, all these struggles don't discourage Bertsch. She recognizes that what she is doing for her students will make a big difference. Even if distance learning has its challenges she continues to push through and works hard in order to make sure her students have a safe and efficient learning environment.
Around the world there are other teachers in the same situation as Bertsch. "My advice for other teachers would be just to keep working hard and as long as you're making choices in what is the best interests for you students eventually there will come a time where you feel that love comes back," Bertsch expresses. "The goal is to make sure that students are learning and that they are comfortable and I think that just takes time. So just be patient, stay positive, don't work till midnight every night, and make sure to take breaks."
Leave a Comment
About the Contributor
Daniela Morales, Editor-in-Chief-West
Hi! I am Daniela. This is my second year writing for the student publication. I am also the Editor in Chief for this school year which I am so stoked about....