SAT's: What you need to know
It is too late to register for the March 27 test, but a second test is being offered on May 4.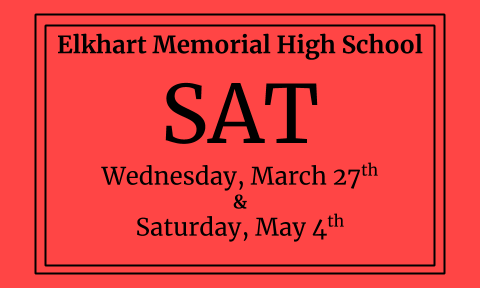 For those who are college-bound, the SAT's can have a great impact on the rest of their academic life. The score they receive can determine which colleges accept them and what scholarships they receive (or don't receive!), thus possibly determining the college they end up attending.
It can be really scary and leave a student with a lot of questions.
Here are some answers:
SAT's are indeed being held at Memorial on Wed., March 27 during the school day; however, the sign-up date for that test has passed. So…
What if I missed the sign-up deadline?
No one would blame you if you did. (It was a bit of a crazy week.) While you won't have the opportunity to get out of class and take the test during a school day, there are other chances to take it. It'll just be on a Saturday morning. The next available date is on Sat., May 4.
What can I expect?
Typically, the test takes place on a Saturday morning for four to five hours. It consists of four sections: reading, writing and language, and two math sections (one with and one without a calculator).
How much does it cost and how do I sign-up?
Our school offers students the chance to take the test during the school day to increase participation and to help combat conflicts that might occur on the weekend with extracurriculars, work, or family obligations. In order to take advantage of this, students must register in the Guidance Office or on collegeboard.org and pay a fee of $47.50 or $64.50.
This fee covers the cost of administration, paying the staff proctoring the test, and the opportunity for students to send the score they receive to four colleges of their choice.
"Many students forget to take advantage of this," Early College guidance counselor Michelle Tibbs said. "And then have to pay to have the scores sent at a later date."
What is the $64.50?
This is the price of the test if you intend to take it with an essay. The essay portion consists of a text that the student must read and then write a rhetorical analysis over. The majority of students who take this portion are exceptional writers, those who intend on entering an extremely competitive field after college such as engineering or business, or if the school they plan to attend requires it on admission.
What if you can't afford to pay the fee?
If you meet certain qualifications, your family can apply for a waiver. If you get one, you can use it two times. If you apply for one but don't show up on the day of the test, you lose that waiver. To find out if you're eligible, go to this page on collegeboard.org.
When is the deadline to sign-up?
April 5. Sign up HERE!