The DO's and DON'Ts of how to support your local seniors
During this time of uncertainty, the graduating class of 2020 is left with a lot of mixed feelings, so please support them.
The spring of 2020 was not how any of us expected it to be, especially for high school seniors. This was supposed to be the time when high school seniors experienced their last prom and last pep rally, but more importantly, it was supposed to be a time of a lot of firsts: our first senior picnic, our first grad walk, and lastly our first graduation. 
All of this was either cut short or altered in some way or another, leaving seniors without the chance to make some extremely important memories. Additionally, the chance to say our final goodbyes. So here are some things to do to support your local senior. 
1. DO Purchase a Yard Sign
For starters, if you are a parent of an athlete, you might already have a yard sign or poster. Go outside and put it in the yard or hang them up. This is just a small gesture to let your senior know you are supporting them. If you don't have a poster or sign, many local places are making them for families. Not only will you be supporting your seniors, you will also be supporting your local businesses. Once the signs and posters are up and outside, neighbors will acknowledge them and may even leave a little note in the mailbox. 
2. DO Join the Facebook group 'Adopt an Elkhart HS Senior'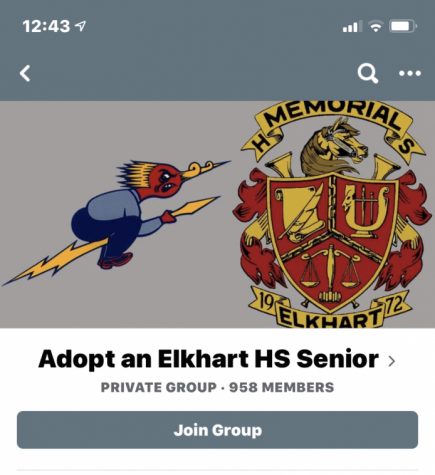 Secondly, join the Facebook group, "Adopt an Elkhart HS Senior." If you are a parent of a senior, make a post about your senior with a few pictures. If you are not a parent of a senior, go ahead and adopt a senior. No, you are not literally adopting them and you will not be responsible for them in any way, shape, or form. By adopting a senior from Central or Memorial, you will be able to send "your" senior gifts, snacks, and words of encouragement throughout this uncertain time. Personally, receiving small gifts and words of encouragement definitely brightens my day. The smallest gestures mean the most. 
3. DO NOT "rub it in"
Recently, there have been posts on social media saying, "Support the class of 2020 by posting pictures from your senior year."  Do not do this! No senior wants to see how you got to enjoy the last moments of high school or your last prom. This is only going to remind us that we did not get to have these experiences. 
4. DO NOT degrade feelings
Additionally, do not degrade a senior's feelings. Everyone is going to handle the unexpected loss differently: some may not want to talk about it and others may just cry when the topic comes to mind. Do not tell a senior that "this is not a big deal" or that they "should be happy they don't have to go to school." By saying these things, students can feel as if they are alone. No one has ever experienced something like this before, so no one has the right to tell others how to feel. 
5. DO NOT add to the stress
Lastly, do not say or do things that add more stress to our lives. Right now is an extremely stressful time as we are trying to finish the year strong online. Things are different and harder at times than just going to school. And for seniors who are furthering their education, that process also just got a lot harder because everything has to be done online. So keep some of those daunting thoughts about COVID-19 to yourself. We don't need to hear it. 
The views in this column do not necessarily reflect the views of the GENESIS staff. Reach Jahlea Douglas at [email protected].