Elkhart Memorial is home
Marriage, children, and a passion and dedication to Elkhart Memorial: this is the story of Julie Tyrakowski and Jeff Miller.
Prom, graduation, pep assemblies, Champion's Last Ride Carnival, academic letter awards, blood drives, Homecoming, the list goes on and on. These events take hours of planning and collaboration, but do you know the story behind the duo who makes all of these events possible? 
Most of us know them as Ms. T (Julie Tyrakowski) and Mr. Miller (Jeff Miller).
It All Started With "T"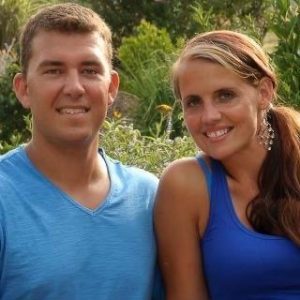 Ms. T began her career at Elkhart Memorial in 2002 as a math teacher, not realizing that she would soon take on a number of important roles. 
Over the years, she worked hard to create a sense of community at Elkhart Memorial. 
"The way she is involved in the school and even in the community is very inspiring," junior Cassandre Thrash, student government treasurer said. "Not many people care as much as she does." 
Ms. T is the brains and organization behind a variety of events and projects that have made Elkhart Memorial a better place: the EMHS food pantry, clothes closet, and even hygiene boxes that can be found in every girl's bathroom.
Over the years, Ms. T has also been responsible for implementing academic clubs such as a spelling team and an academic super bowl team. She is also a student government sponsor, co-sponsor of the Chess Club, and the teacher who oversees the annual 14 hour math challenge: Mega Moody Math Challenge.
When Ms. T saw a need for classes that would meet the needs and wants of students, she proposed that AP Stats, Intro to Computer Science, AP Computer Science and Modeling would be added to the math and engineering department, and she stepped up to teach as many of them as she could.
Today, Ms. T continues to be as versatile as ever in her school involvement as well as the classes she teaches. When walking through the halls, if you hear, "Buenos días", you know it is Ms. T, because not only does she teach AP Statistics and Computer Science, but she teaches Spanish as well.
Because she is involved in so many areas of EMHS, she has the opportunity to reach all different types of students at Memorial, so students know her as a down to earth, kind-hearted person.
 "Ms. T has impacted my life by showing how important it is to care for others and how rewarding it is to go out of your way to help other people," Thrash said. 
Then came Miller
In 2005, Mr. Miller started teaching at Memorial and by fate, Miller and Ms. T found each other. Their love story evolved with marriage in 2007  and the birth of two children, Cade and Camryn. 
Their relationship all started with Ms. T dragging Miller, who at the time was an English teacher, to chaperone a dance. Now, as the Student Activities Director, Miller spends a lot of time planning and chaperoning high school events such as dances.
"[Miller] always tells me how it is and the honest truth which is hard to come by," Thrash said, "but it is really nice to have someone like that."
Miller oversees the planning and implementation of a number of student-led events at Elkhart Memorial as the sponsor of National Honors Society. Events such as the fall blood drive, winter dance (also known as the winter carnival this year), and teacher appreciation week. 
Students can always find him working on something for someone else, whether it be work for them or simply something they will later get to see. 
On top of all of this, Miller coached football for 13 years at Elkhart Memorial and Elkhart Central for two. He also coached for seven seasons of track and field at EMHS. 
"Coach Miller is one of the best coaches I've had," Jaylen Holmes, junior lineman said. "I respect him for everything he's done for not only our players, but for students all over the school. He's always had our best interests at heart."
Elkhart Memorial is Home
Ms. T and Mr. Miller spend countless hours at school which means that sometimes Camryn and Cade (now 10 and 13) find themselves hanging out there as well. 
"Being along for the ride sometimes if we need to go to school and do some work, they'll just come and ride their segway in the Student Center," Mr. Miller said. 
When they are home, they spend their time taking care of their many cats in which they, or Ms. T if you ask Miller, foster. They also own horses that their kids enter in 4H. 
Between all of the clubs, events, and teaching, how do they separate work and home? To this question, they both agreed on the answer: "We don't." 
However, they did say that there are some nights where they agree to just take a break from school topics and focus on being a family.
Ms. T and Mr. Miller are the true embodiment of the hard work and dedication that makes Elkhart Memorial a great place to be. 
Through Their Eyes
Question: "Tell me a little about Miller through your eyes."
Ms. T: "He has such a passion for students and creating relationships. He seems to always know what to say and get on their level.  He is always a voice of reason and calmness. He puts 100% into any task he takes on. He's not a self-promoter.  Sometimes he is overlooked because of that, but that doesn't change what he does, because he always does things for the right reasons.  His knowledge of sports and movies is ridiculous. I have to admit, when I'm typing something important, I have him edit and use better wording to sound fancy. No matter what he's doing, if someone asks for help he never says 'no.'"
Question: "Tell me a little about T through your eyes."
Mr. Miller: "She's extremely passionate about helping people and doing what she thinks is right. She is as loyal as people come unless you do her wrong. Once you show her you're not a good person or can't be trusted, she's done with you. She will sacrifice anything she needs for people in need AND ESPECIALLY animals in need. She is the only person I've met who can be more stubborn than I am. Her brain never stops. Never. I think she can only sleep in 3-hour stretches because her mind won't turn off at all. Idle hands are not something you will see from her. My hero in my life was my mom. The way Julie holds our family together, what she is like as a mother…I'm just very grateful and humbled to have found her: someone who is as good of a person as my mom was… another person who is my hero."
About the Contributor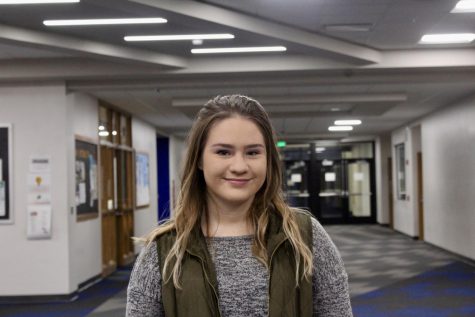 Kailey Blazier, Opinion Editor
Hi! My name is Kailey, but you already know that. I am the Opinion Editor and I have been in this crazy family for four years now so this is my last year...