Athlete of the week: Three sport athlete, Morgan Dyer
Senior, Morgan Dyer, has committed Division One to Indiana State University, for both Cross County and Track and Field.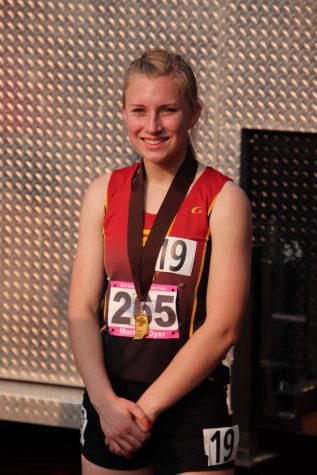 Morgan Dyer is an all around athlete and a State cross country and track participant. With an athletic history that involves not only cross country and track, but also volleyball, swimming and cheerleading, she is our Athlete of the Week.  
GENESIS: Tell me about what season you like best: cross country, swimming, or track?
Morgan Dyer: Picking one sport over the other can be very difficult. They each have their own aspects that I enjoy. I love the atmosphere of cross country, you won't get to experience anywhere else. There is such a tight knit bond and everyone becomes closer like a family because we all are running the same exact length.
But on the other hand I would personally say that track has a special place in my heart because it was the only running sport I knew as a fourth grader when I developed this passion of running. I hadn't stumbled across the sport of cross country yet, so track was all that I was familiar with. I like track because it has a variety of different events, but the long distance races in track seem to be much faster than the singular race of cross country and that's what makes me have a stronger connection with it. 
G: Describe what being a three sport athlete is like. Do you ever get a break from sports?
MD: Being a three sport athlete takes dedication and discipline, there is no doubt about it. You have to set aside time for your sports and most importantly your school work. As well making sacrifices in your daily life. Sometimes there are other extracurriculars that you would rather be participating in then going to practice, but staying healthy and being fit are my top priorities, so there are many times that I have to say no. Going from sport to sport to sport I've only ever gotten at most a four day break between seasons.
Health is a major aspect in being able compete to the best of my ability which results in me taking my recovery very seriously as well as what I do and do not eat. It is true when they say "you are what you eat" because I learned very quickly that if you fill your body with junk, you don't play or compete well. Therefore, I have a pretty strict guideline diet that allows me to get enough protein, carbohydrates, iron, and fats so I can perform well.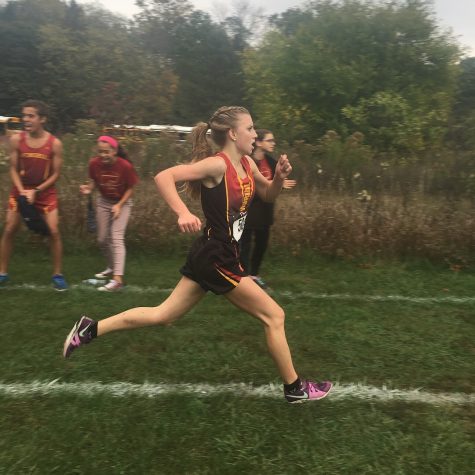 G: Over the course of four years in high school what has been the biggest challenge as an athlete?
MD: I would say that my biggest challenge that I had to learn was when I was just a freshman. I had to learn how to deal with the immense amount of pressure that was put on me in my running sports. As well as being able to learn how to act and react during races. Being one of 27 girls toeing the line at the State meet at IU Bloomington's track while being surrounded by 10,000 people and knowing that you are one of the youngest runners out there at 15 years old is a bit nerve wracking. But having that experience early in my high school career allowed me to gain the knowledge of what to do and what not to do and prepared me for other pressure filled meets to come.
G: At Elkhart Memorial we are STUDENT-athletes, how do you maintain good grades?
MD: Sacrifice. Family comes first, followed by school, with sports trailing that. Sports are a privilege, we see that with yearly grade checks that the school issues. But I was taught that at a young age that there has to be sacrifice in my daily life to put aside time to keep up on my studies. Because in the long run I'm graduating with a diploma, sports alone will not allow me to walk across the stage and receive that piece of paper that I have been working hard for for the past four years. With that being said, my goal as a freshman was to run collegiately and to spark interest in the Division One schools eyes you not only have to excel in the sport but it is also another major plus to have good grades.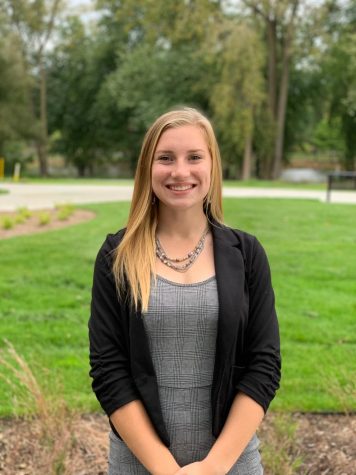 G: Tell me about your internship, Startup Moxie. Do you feel like it has prepared you for whatever career you may pursue?
MD: Startup Moxie is a transformative program that fully immerses students in the entrepreneurial ecosystem. I along with 19 other students in my class meet every week, Monday- Friday, 7:30-9am. We get the opportunity to hear from the leaders in our community about their business and ventures, life experiences, and their perspectives on the South Bend, Elkhart region.
Throughout the course of the year I am using the entrepreneurial process and developing and creating my own business where I will then pitch to several investors for funding. This class has taught me so much. We learn by doing which automatically creates a much different learning atmosphere than high school.
The networking skills I have received from this class the past few months doesn't even compare to what I once thought I had. Talking with several CEOs of multi-million dollar companies, listening to their success and failures, and getting their contact information so I can use them for reference when I start my business is something that I would never have received just from the ordinary high school classroom. This Startup Moxie class has assured me and brought me to the career that I plan on pursuing.
G: What are your plans for college both academically and athletically?
MD: I will be attending Indiana State University in the fall. Where I have committed to the sports of: cross country and track and field. I will be majoring in exercise science and minoring in business. With the subject to change to a sports psychology major.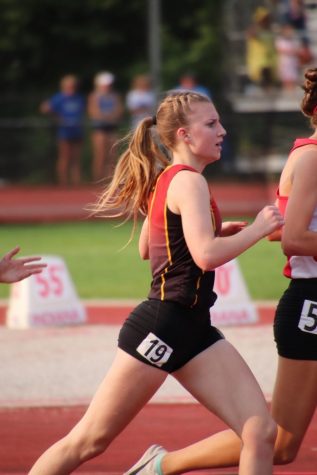 G: Since you're a female who has achieved great things as a three sport athlete, over the course of four years, what would the Katherine Wolf award mean to you?
MD: The Katherine Wolf is an award that most female athletes have been reminded of since they started playing sports in high school. It represents to me a place of honor, dignity, determination, and excellence. Those are all things that I have strived to accomplish not only in my athletics but also in my life. Winning this award would not only be a reminder of those things that I have accomplished but also to show future female athletes not to ever give up and I would also be represented by the successful female athletes of the past.