Teams Gear Up For Class Olympics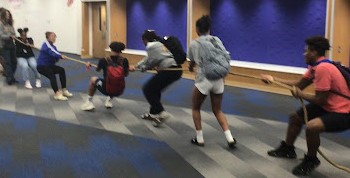 Coming soon to a school near you…The 2022 Class Olympics!
As an annual tradition, each grade level puts together a team that it believes can outdo the other grade levels in the hopes of winning the coveted title of Class Champions.
"Class Olympics is a night where everybody gets together to compete with classmates for points towards your class score," explains junior competitor Addison Asbury.
This year's Class Olympics are being held here in Tubbs Gym on Wednesday, Sept. 28, starting at 7 p.m. It is expected that the event will end by 10 p.m. During these three hours, spectators will enjoy competitions that are definitely a blast from the past: Tug-Of-War, The Fruit Roll-Up Game, Cup-Pong, Simon Says, Leapfrog, Blindfolded Musical Chairs, and even Hungry, Hungry Hippo. "It is an exciting event that brings students of all grades and staff together to celebrate our school and have fun," shares Activities Director Mr. Jeff Miller.
In preparation for the event, each grade is "gearing up" in order to "rack up" those points for their team and secure the highest score!  "Class Olympics is probably one of my favorite activities, because it holds a lot of competitiveness and fun between all of our classes," exclaims senior Abigail Presswood.
"The Class Olympics are amazing, as people come together for a night of competitive fun!" continues senior Taryn Snyder, now in her second year as chairperson for the event. Having previously attended the Olympics sparked her interest for both the present and future of the Class Olympics. "The reason I love the Class Olympics is because there's a little something for everyone." Explaining further, Snyder adds, "Some games don't require athleticism and some do!"
An average of 100 students will be participating in the event; the four grave-level teams hope that the entire student body will show up to root them on.
Let the games begin!