Better and better every year
The JROTC Ball is an invite that you don't want to pass up.
The Air Force JROTC Ball is a tradition that the AFJROTC cadets look forward to every year.
Even though attendance to this event is required for those in the program, it is one that even those who have left the program look forward to attending as a guest.
According to Senior Master Sergeant Scott Rutledge, the celebration is–for the most part–a cadet run event, but he hopes that in the next few years it will be fully cadet run.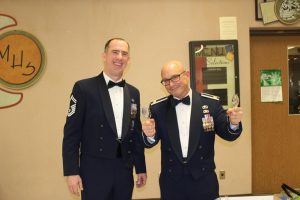 "It [the ball] was the best one yet to happen," senior Emma Derringer, a third year cadet said.
Derringer then went on to say that one of her favorite parts was when the guest speaker, Sergeant Rutledge, gave his thanks to both the Central and Memorial cadets.
This event also serves as an opportunity to celebrate the accomplishments of the seniors, so to make the event even more special, the JROTC Ball planners added a table to give the senior Cadets a last thank you for their dedication.
From experience, I can tell you that every year the event gets better. I have had the pleasure of attending it since my freshman year.
It is always exciting waiting to find out who the guest speaker will be and getting to see what kind of decorations, food, and music the planners decided upon. It is obvious that a lot of trust was placed in the hands of the students to make this event the best one yet.
I was impressed by all of the decorations, how the tables were set up, and even the food (my favorite part) was a unique choice for the event.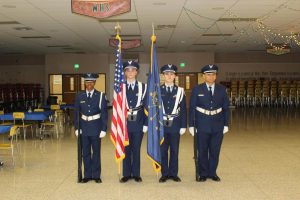 Furthermore, I'm not really a music person, yet I danced to the music at the JROTC Ball.
So, here is my suggestion to you readers, if you get invited to this event in the future, accept the invite because you will have the time of your life.
If you want more information about JROTC, you can always ask Senior Master Sergeant Rutledge and Major Dorman during advisory, lunch, before class starts, or even at the end of the day in C163.