Win number 15: Chargers cruise on senior night, beat South Bend Clay 75-48
The Elkhart Memorial Basketball team cruised to a 75-48 victory over South Bend Clay Saturday night.
In Memorial's last home game, it was an easy victory for the Chargers, and a sweet senior night.
The Chargers jumped out to an early 21-10 lead after the first quarter, and never looked back from there.
With all nine active players putting up numbers in the scoring column, they were led by senior Trey Gallope.
"It definitely helps when the guys are moving the basketball and playing well," said coach Kyle Sears. "With five guys in double digits, I was very happy to see that.  Saturday was a good bounce back game that we needed. It was a great game for the seniors and the whole team to get after it and be able to knock some shots down."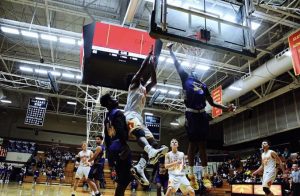 Gallope also received help from every single one of his teammates. Senior Ben Roby notched his second straight double figure game with 10 points; senior Brandon Bailey knocked down three of a team total eight three-pointers; sophomore D'Arjon Lewis poured in 11 points; senior Hank Smith added another 10; senior Jai-Veon Qaiyim finished with seven points; freshman Malachi Emmons put up six points and pulled down eight rebounds; while junior Brackton Miller and Zachary O'Lena each added a shot from three-point land.
"Being able to start on senior night, it was awesome," said Bailey. "It felt like all the work I have put in over the last few years has paid off."
After a crushing victory over the Colonials, the Chargers will travel to Warsaw High School on Tuesday, Feb. 19 in hopes of beating the Tigers.
A win Tuesday would give the Chargers a share of the conference title with Warsaw.