Chargers lose a heartbreaker, fall 63-62
St. Joe Indians score on a last second shot to push past the Chargers
Friday night's game was a heartbreaker for the Elkhart Memorial Chargers, as they lost a very tough game 63-62.
With less than five seconds to go in the game, the Chargers had a one point lead until South Bend Saint Joe senior, Alex Mossey, hit a short jumper that would give the Indians the lead.
Sophomore D'Arjon Lewis threw up a prayer from half court as the buzzer sounded, but that prayer was not answered.
It was a close game all night long, thanks to monster games by Memorial's senior Trey Gallope, and St. Joe's sophomore JR Konieczny.
Gallope would finish the game with an impressive statline of 25 points, 15 rebounds, and five assists to go along with two steals and a block.
"I knew it was a big game," said Gallope. "St. Joe seemed to be playing pretty well, so I knew I had to turn the heat up a little bit in order to keep my team in the game"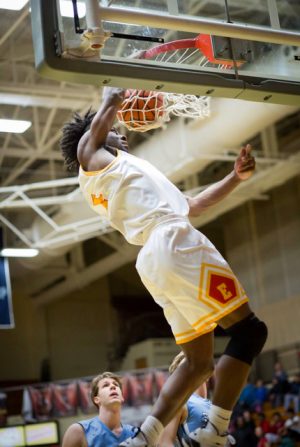 Konieczny ended with a career high 39 points, making him the only Indian player to finish in double figures.
Senior Ben Roby would join Gallope as the only two Chargers in double figures. Roby finished with 10.
Memorial's Hank Smith, who started the season scorching hot for the Chargers finished with only seven points.
Though it was the closing seconds of a close game that mattered most.
As the Chargers sent St. Joe's JP Raster to the line after a foul committed by Roby, the fans waited anxiously to watch.
Raster would miss both free throws, but with a towering 6-foot-10 center in the game, Mossey was able to corral the rebound and get a putback bucket.
"When he missed the second free throw I thought we would get the rebound and they would have to foul. Then they got the rebound, and hit the putback," said Coach Kyle Sears. "Then after our shot didn't go, I wished he had made the second free throw."
This was a battle the Chargers seemed to face all night.
The Indians have three players on their roster 6-foot-5 or taller, while the Chargers tallest player, senior Javon Forester, listed at 6-foot-2, was inactive due to injury.
This well fought game wouldn't be the only one played Friday night in Northside Gym. As members from Elkhart Memorial's Unified Track team faced off against each other at halftime of the boys varsity basketball game.
The track team was split into two squads, each coached by a teacher from Memorial: Stephen Asbury and Kris Bartley.
The two teams would play a regular game of 5-on-5 basketball with a running clock of eight minutes. The game would be officiated by school principal Cary Anderson and assistant athletic director Phyllis Tubbs.
Although there was no scorekeeping for the game, many would agree that it was a pretty fair matchup between the two squads.
"It was just fun watching all of my teammates having fun and being competitive," junior Esvin Herrera, third year member of the unified track team said. "but the best part by far was guarding Juju [Williams]."
The unified track team will have their first official practice March 5, where they will prepare to make a run at back to back state championship titles.
As for Memorial's basketball team, they will look to bounce back from the tough loss in their last home game against South Bend Clay on Saturday, Feb. 16.