Q & A with Elkhart General intern and senior Ritu Patel
What are your plans for college?
I will be attending IUPUI in the fall of 2019 and my intended major is nursing.
Tell me about your nursing career.
So far the steps I've taken to pursue my nursing career have been my wonderful internship at Elkhart General Hospital, and currently I'm enrolled in a class at Ivy Tech Campus for Certified Nursing Assistant and the plan is to get state certified this year! I have class three days a week for five hours. And 75 hours of clinicals on a clinical site, which is exciting! I plan to apply for nursing school and gain acceptance then receive my bachelors of science in nursing and work as a registered nurse while pursuing the end goal which is to be a nurse practitioner.
Explain what your job will be like as a nurse practitioner.
A nurse practitioner. A nurse practitioner is an advanced practice registered nurse classified as a mid-level practitioner. A nurse practitioner is trained to assess patient needs, order and interpret diagnostic and laboratory tests, diagnose illness and disease, prescribe medication and formulate treatment plan. I haven't decided specialties, but my internship surely opened my interests! I really enjoy OR, rehab, Med/Surg, Critical Care, & Pediatrics.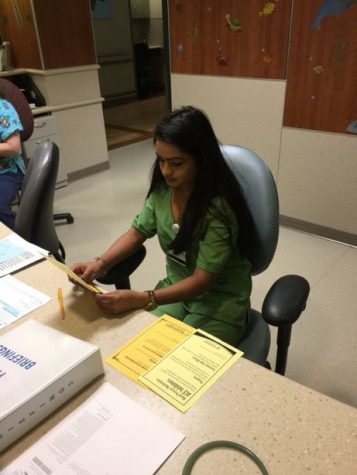 What are some hobbies you have?
I love working out and everything about weightlifting. I think it's beautiful because you work towards your own goals and you're not really competing with anyone else. You can always have a new goal for the day, month or even the year, so it'll always stay interesting and keep you going at a goal. Overall, it has made me feel internally healthier and happier as a person. In the mornings as soon as I wake up I like to mediate, I won't look at social media first thing in the morning. I do a little bit of yoga but would love to get more into it. And unfortunately shopping is one of my hobbies and I shop entirely too much! I love spending time with friends! Though I also enjoy just kicking back alone at my house with music or of course— the show Friends!!
What impact has your family had on you with school?
My parents are undoubtedly the most hardworking individuals I have ever encountered. They have always taught me to never let unfortunate circumstances drive your future. You cannot control where you start, but you can surely control where you end. And I'm a strong believer in that and it's the main reason I am where I am today in life. They have always raised me to value education and the ability to work because it's a privilege not everyone gets.