From State to stay-at-home
Sprinter and varsity volleyball player, Junior Emily Anderson, is our Athlete of the Week
This week's athlete of the week is junior Emily Anderson. Anderson is active in student government, varsity volleyball and track and field.
GENESIS: What influences you to run? What drives you into sprinting?
EMILY ANDERSON: Running has always been in my background in some sort of way. I've always been active as a kid, which included soccer for 7 years. That's where I figured out that I was pretty fast. From then on, I started running track in elementary and stuck with it because I loved it! Sprints have always been my strong point, trust me- from experience, field events and distance aren't my strongest areas.
G: Going from running in State your sophomore year to the season being canceled your junior year, how has it made you feel?
EA: After going to State with my 4×1 team my sophomore year, going into my junior year held a lot of promise because we would have the same 4×1 team. I also showed lots of promise in going to State for the 100m this year as well. It's so heartbreaking to me that the season got canceled because not only will I not get another chance to run at State this year, I won't get another season with 2 specific seniors that were on the 4×1 with me (Mya Reeves, Laila Nagy). That's probably the most heartbreaking part of it all- the girls sprint team as a WHOLE bonded a lot during my freshman and sophomore years of track and I was so excited to make more memories this year (in my last year running as a Charger).
G: Tell me about the experience of going to State, is there a moment that made your experience memorable? 
EA: Going to the State meet was such an unforgettable experience. After crossing the finish line at regionals and qualifying for State, there was no better feeling. All the hard work and leg killing practices paid off for that moment. State itself was amazing too. The atmosphere was awesome, IU Bloomington has a beautiful track. Even though we weren't expected to place super high, we knew being there meant we were a part of the best of the best. Before running, we all were so nervous yet so excited. I vividly remember us going to check-in and we were shaking. Although once we got to running, our adrenaline took over and we did what we knew we were trained to do. Our 4×1 team PRed our time by quite a bit, which was an additional good feeling! At this tim, we all knew that next year we probably had a good shot at making the podium (since our same team would compete next year).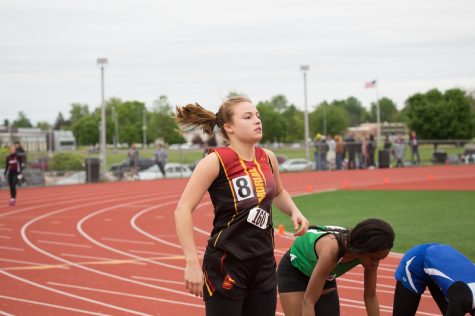 G: What are your goals for next season for track?
EA: For my senior season of track, I want to have another unforgettable season. At this point, we will be Elkhart Track. I'm excited to see what Central brings in, knowing that we could have another amazing 4×1 team. I also want to make it in the 100m because of how close I was to making it my sophomore year. All in all, I mostly want to make up for what I lost my junior year.
I have one last season to leave it all on the track and hopefully make a return to State! 
G: Outside of the track, what are some other activities that drive you to be the best athlete you can be?
EA: I also participate in volleyball! Volleyball has also been a big part of my life. It has taught me a lot about patience, perseverance, and determination that have carried over into my running. Additionally, running keeps me in excellent shape for volleyball. Both sports have made me the athlete I am today!
G: As well as an athlete, you are incredible in academics, what are your future plans for college and what you'd like to study?
EA: I've always had a big interest in the medical field in terms of the anesthesia area. Right now, I'm not set on a specific college, but I'm leaning towards Indiana University to become a RN (registered nurse) and then continue my training to become a CRNA (certified registered nurse anesthetist)!