Coronavirus (COVID-19) taking over professional, collegiate, even high school sports.
Sports on all levels are really starting to feel the heat around the country from the Coronavirus (COVID-19). With over 100,000 confirmed cases, not including the people who are carriers and undiagnosed, as well as 5,000 deaths, the spread of this disease is inevitable. 
Just this week the World Health Organization officially declared the Coronavirus as a global pandemic. But I am proud to say I believe the United States has taken well thought out precautions with the virus, especially with many athletic tournaments coming up. 
What's even worse is this problem is no longer something that strays far from home. In terms of the Indiana State high school basketball tournament, things will be a little different this year.
 IHSAA Commissioner Bobby Cox announced on Friday, Mar. 13, that,
"
Due to the number of schools closing after today for an extended period of time, it has become apparent the IHSAA boys basketball tournament series cannot be completed as scheduled. Subsequently, the boys basketball tournament is postponed immediately."
In which a future date has not yet been named. But this was only the beginning, as spring sports are just around the corner, they started to become an addition to things Cox and his team members had to think about.
With the shutdown of Elkhart Memorial and eLearning to begin Thursday, Mar. 19, after the two teacher professional development days (Tuesday and Wednesday), along comes the spring sports season, or so it usually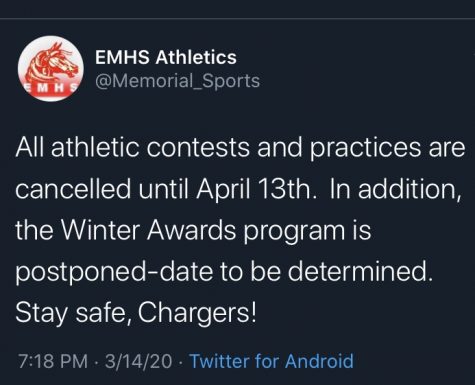 would.
Initially, spring sports teams were not allowed to conduct practice until ECS opened back up on the predicted date of Monday, April 13.
However, after a mandate from Governor Holcomb signed on Thursday, March 19, schools will not open until the anticipated date of Monday, May 4. In which spring sports will open back up for ECS once again, but no one really knows how this will impact the season, or if the season will really go on.
But even more prominently, and as sad as it is to say, all four of the major U.S. Leagues have been put on halt. The National Basketball Association (NBA), suspended the whole rest of the season indefinitely as of Wednesday, March 11, then not far behind it the National Hockey League (NHL) suspended the rest of their season as well. With those came the suspension of the rest of the Major League Soccer (MLS) season, men and womens'. 
For me however, the most personally heartbreaking shut downs would have to be the whole NCAA Men's and Women's basketball tournaments, as well as postponing of the Major League Baseball (MLB) opening day by a couple weeks and cancelation of spring training.
(CNBC Keeps an updated article of any future cancellations and closings here)