Athlete of the Week: Jennifer Diaz
Junior Jennifer Diaz has been running since seventh grade. Keep reading to learn more!
GENESIS: What made you start running?
Jennifer Diaz: I started doing track in seventh grade. I wanted to join an extracurricular activity and I've always liked running. It made me feel free, like I could do anything.
G: How do you prepare for a meet?
JD: Our coach makes us stretch a lot so we don't injure ourselves. We practice our form and gain endurance as well. I also have to stay hydrated and make sure that I'm eating healthy so I don't feel tired.
G: Do you plan on continuing to run for college?
JD: If I get a scholarship, then I will run, but I don't really want to since college is stressful, so I feel like it would all just be too much.
G: How do you balance school and track?
JD: It's definitely really hard because practices drain me after and it takes away all of my energy, and sometimes I'm too tired to even do homework, but I just have to push through it. 
G: What is it that you mostly enjoy during track season? 
JD: Definitely the meets and bonding with my teammates and just hyping each other up, it's really fun.
G: What is the best memory you have made from track?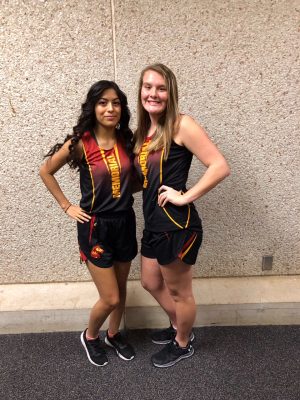 JD: My Freshman year we were going to an indoor meeting and on the way there we were just jamming out to Taylor Swift. They were playing a song by her and everyone on the bus was singing, even the boys. It was hilarious. 
G: What is your main goal for this season? 
JD: Definitely to push myself , and I want to get under a minute for the 400 meter run. This would beat my personal record if I were to beat it. 
G: How has track helped you?
JD: When I'm having a hard time, I envision myself running on the track and it's that part where you have 100 meters to go and you just have to push yourself to finish, thinking about this just helps me. 
G: What would you tell someone who is barely starting track?
JD: When you are starting to practice or train, I know it can get hard and you feel like you can't do it. You just have to push yourself and you have to think of your goals to get better.