Sigma Beta Upsilon food drive success and its victors
Lauren Schmidt's advisory class collected 149 items and won an ice cream sundae party hosted by SBU
Students in Lauren Schmidt's advisory class were treated to ice cream sundaes after winning the Sigma Beta Upsilon (SBU) annual food drive competition.
The advisory class is responsible for collecting a total of 149 items for Church Community Services.
Overall, 1,424 items of food were donated by Elkhart Memorial students. Most notably, JROTC cadets donated 1,106 items, but they remove themselves from the SBU competition every year.
"This was a community service idea that developed from Sigma Beta Upsilon nearly thirty years ago," Club sponsor Janie Boyden said.
From its creation nearly 30 years ago, along with other charitable activities such as a Thanksgiving turkey drawing and Christmas caroling at a nursing home, the annual SBU food drive brings a sense of accomplishment for participants.
"I feel jubilant and invaluable. I LOVE IT," SBU member junior A'Daiziana Johnson said.
"It is always a good feeling to help others," Boyden said. "One of the unspoken duties as a teacher is to introduce the importance of community service to students so that they feel good about helping others and contributing to their community."
About the Writer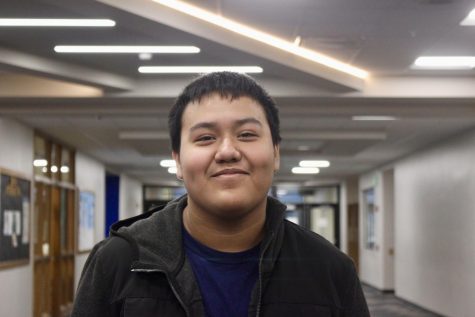 Richard Bautista, Staff Writer
My name is Richard Bautista and this is my first year as a GENESIS writer. I hope to provide some mediocre writing, do nothing in my spare time, and also...