Straight Outta Texas: Miss Leticia Armstrong
Get to know our temporary security kiosk para, Miss Leticia Armstrong!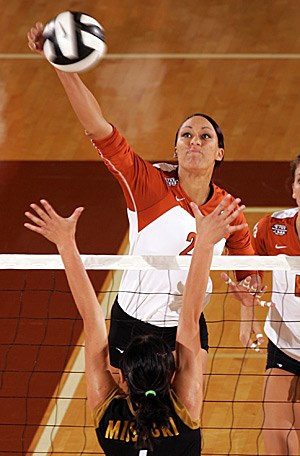 We see Miss Armstrong every day at her desk in front of the new student office. She jokes around with us, she makes us laugh, and she gives us a sense of comfort knowing that she's watching over our school cameras and in charge of allowing or denying strangers entry to our school. Miss Armstrong holds an important role in the safety of Memorial, and there's so much we don't know about her.
When Cassidy Parsons went on maternity leave to welcome a baby into the world, Miss Armstrong was temporarily hired to fill her spot.
Little did we know, we were getting an admirable, All-American volleyball player from THE University of Texas.   
That's right, Miss Armstrong is an All-American out of Texas University.
"[Texas] was lots of fun. It was a great experience," Armstrong said. "I was a middle blocker. I went on a full scholarship for volleyball. The atmosphere was awesome and the feeling you get on the campus is what made my mind up. I redshirted, then I played three years, 2003-2008, and took a medical redshirt my last year."
Being a division I volleyball player playing for such a prestigious program like Texas brought her many memories, memories she's going to hold on to for the rest of her life.
"There's so many memories, but I'd just have to say my favorite was when my All-American picture was hung in Gregory Gym," Armstrong said. "But also I have to include all of the friends I made while there and the support I received from all of the sports on campus and the community. I miss Texas and plan to move back one day."
Miss Armstrong came back from Texas to Elkhart in the summer of 2008.
"My mother was diagnosed with colon cancer, at the same time I was pregnant with my first child," Armstrong said.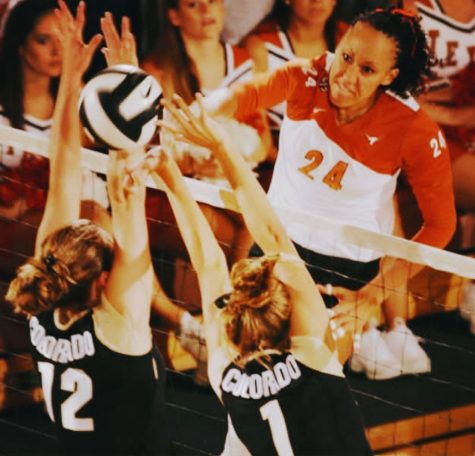 In addition to temporarily filling Miss Parson's position, there is so much Miss. Armstrong does.
"I am a substitute teacher and also a Youth Care Worker at Bashor which is where I was before I took this position," Armstrong said. "I am also pursuing another job to be a Firefighter, and I am in the early stages of the hiring process."
You'd think that her favorite part of her job at Memorial would be to act as a spy watching all the cameras, but this is not the case.
"My favorite part of this job is being able to interact with the students and giving them that extra ear if they need it," Miss Armstrong said.
Miss Armstrong wants students to know that she is always here for us if we need to talk or if we  just need a listening ear.
Outside of her time consuming work schedule, Miss Armstrong stays busy. She is a mother to four children who are active in baseball, basketball, football, and cheerleading. Her youngest will soon be a year old. This summer she also plans to play sand volleyball.
"I once was one of you guys, I did not start off knowing that I could go to college, but my high school volleyball coach saw something in me, and during my sophomore year, I had to bust my butt to get my grades up by going to day school and night school my junior and senior year as well, then I sat out a year after I graduated to bring them up more," Armstrong said. "I say that to say this: You hold the key to your destiny, no one can tell you how to live your life. We all get knocked down, but it's how we get back up. I had lots of people talking down on me and saying I wouldn't go to college because I was sitting out a year, but I proved them wrong. As long as you believe in yourself you can do anything your heart desires."