Swan Song for Fight Song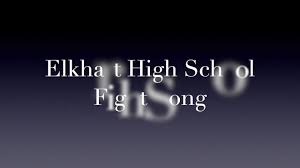 Nothing rallies a team together like a heart-pumping, chest-thumping fight song: Fight on old Elkhart…as we march to Victory!
But, the merging of Central and Memorial's fights songs was not even a consideration. Elkhart will be one high school with one song in just one year.
Since sports teams will be combining next year, the fight song has to not only be up and running but also represent Elkhart well. With a lot to do and little time to do it, the committee first had to come up with which tune to use.
Mr. Dan Burton, one of Central's band directors, is part of that committee. He states that he and some other band directors listened to over 149 college fight songs. They were looking for something fresh and new—something that was not heard around this area. "The committee listened to them all and narrowed it down to four," he explained. "They took a vote on the last four and decided to go with War Eagle from Auburn University." Ken Dye, director of  bands at Notre Dame, willingly provided the musical arrangement.
With a tune in place, the committee now had to set in motion a way to generate the lyrics for the new tune. In January, they had students submit lyrics, and they selected the ones that they thought would go great as a fight song. Now, they are just waiting on the school board to approve their decision. Hopefully, they will get notice back in a few weeks so that they can reveal what Elkhart Lions will be roaring about at next year's games.
   "I am pleased on the progress," Burton concluded. "I think we picked a great song that will represent the school well—and the lyrics are great!"