A Heist Straight Out of the Movies!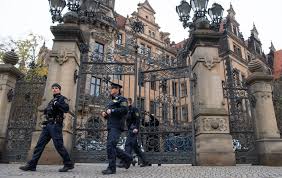 Museum heists seem to be a thing only accomplished in movies, but for two people in Germany, it became reality.
Around 4 a.m. on Nov. 25, two people dressed in all black broke into the Dresden museum's Green Vault and managed to steal about a 100 pieces of 18th century jewelry and other accessories. The two culprits rapidly broke into the museum and smashed the glass display case containing priceless jewels. The two took all the jewelry they could grab and fled the scene. The whole heist itself astoundingly took only a few minutes. Seems like a heist straight out of Ocean's Eleven.
The thieves were smart enough to make the heist quick and have one of the security cameras that would give away their identity cut off. Unfortunately, the only evidence police have to go off of to find the two is the car they left the museum in. Police may suspect that the two seen in the small amount of footage may not be the only two in on the heist. They believe this was a planned operation and others were involved, too.
The morning of Dec. 1, another museum was broken into. Coincidently enough, it was located in Germany. Perpetrators raided the first floor of the Stasi Museum in Berlin; they got away with bountiful amounts of gold jewelry and historic medals important to the Museum. It's uncertain how many were involved in the heist or even if the heist of the Green Vault was related to the Stasi Museum robbery. It is a little suspicious that the two crimes were only six days apart. There were even two fires at an electrical panel near the Dresden Museum and at a nearby street: One car was caught on fire and it looked it looked a lot like the getaway car from the Dresden heist.
It brings to question if the two museum break-ins and the fires were all caused by the same people and were all planned together. On the other hand, are the same criminals capable of stealing from two historic museums and getting away leaving nothing behind? As the case carries on, will the people behind this get caught like they do in the movies, or will they outsmart everyone?