Home Is Where The Heart Is
Homecoming may be slightly different for some alumni, yet all gather as One Elkhart.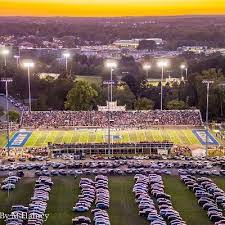 If home is where the heart is, then this year's EHS Homecoming will not disappoint.
In terms of memorable school events, Homecoming is a week every student looks forward to. Students past and present come together to celebrate and share school spirit. This exciting week is only a few weeks away and couldn't come fast enough!
This year, homecoming dates are during the week of Sept. 20. The week kicks off with Dodgeball, followed by Class Olympics, on Sept. 22. The annual Parade/Tailgate/Football game is on Friday, Sept. 24. Activities will conclude with a semi-formal dance on Saturday. In preparation for the week-long activities, $10 Homecoming Class T-shirts can be purchased during the lunch hour.
Former Homecoming Princess Abi Presswood explains what she is looking forward to most this year. "I definitely missed the dance the most," she begins. "The environment of Homecoming is just so fun! The big mosh pit of students dancing is the most chaotic and exciting thing about the dance." Anxious to experience that again, she adds, "I miss pre-COVID when that was allowed, and I'm really hoping we will be able to have a dance this year." Noting that the change in when the dance will be held, she continues: "It will be odd having the dance the next day after the football game instead of going straight to the dance afterwards. But," she concludes, "it will be nice to be able to have time to dress up and get pretty!"
Having the dance the next day will allow for fans to more fully enjoy the Friday night game. Presswood anticipates that the home stands will be packed as a result of Elkhart's schools merging. And, she hopes that this will pump up the football team as they go against St. Joe. Presswood predicts the results of the game, saying,"Knowing we beat St. Joe in football last year makes me feel better." Continuing with a smirk, she speaks for all Elkhartans:"I'm hopeful we can crush them for our Homecoming game!"