Prom 2021: A Night To Remember
"A Grand Affair" is the theme to this year's Prom, which will be held on May 8.
It will be a night to remember; in fact, for EHS students in 2021, it will be "A Grand Affair."
Prom is one of the most anticipated events of high school, but in the midst of an unpredictable year, it's hard to know exactly what to expect.
Prom night is a long-standing high school tradition that gives students the opportunity to dress up, go out, and make memories. However, these unusual past two years have left students wondering what their night will be like.
"We will have four seating sections and four dance floors with the DJ in the center," explains Junior Class Sponsor Mrs. Tanisha Miller.  "Each student will receive a colored wristband to indicate which section he or she has been assigned to." Miller admits that this is not how most would envision their Prom; however, she stresses that these steps were necessary to allow the event to go on. She also adds that masks are mandatory, but can be taken off for pictures. As for the key chain souvenirs, they will not be available this year. But, that should not spoil anyone's night. "If you choose to have a good time," Miller concludes, "you will. So much of life is what you make of it."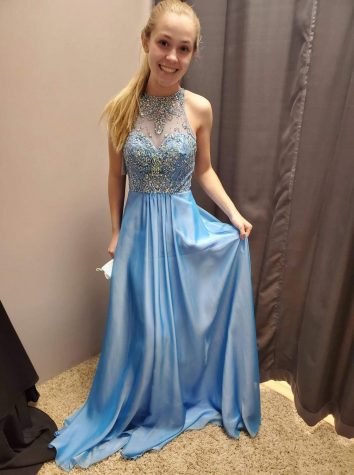 Prom-goers will beginning arriving at 7 p.m. on May 8 at the Northern Indiana Event Center, which will be transformed from its usual decor to that of the Roaring Twenties–something straight out of The Great Gatsby. A magical night of dancing and socializing will continue until the clock strikes 11 p.m., when–like Cinderella–they must say their farewells to this enchanted evening.
Finding the perfect outfit has always been the highlight of the preparations–selecting matching cummerbunds and bow ties to match their date's dress and glass slippers! Some gentlemen will come in rented tuxedos–from traditional black to a trendy teal. But, not all are making that decision. In lieu of traditional tuxedos this year, numerous guys are opting to wear dress suits that they already own.
Similarly, some ladies have purchased their gowns both locally and online, while others are borrowing from friends and relatives. While getting out there to purchase a prom dress has been challenging for some this year, there is a not-as-widely-known opportunity for those still needing a gown. Cinderella's Closet at East campus is full of Prom dresses that have been donated by generous former students. Moreover, they are free to rent. "The only thing asked is that they be returned dry cleaned," notes Miller, who runs the "closet." She can be emailed for more information at [email protected]
Granted, some of the aspects of the 2021 Prom may be different than in previous years. But, rest assured, there will still be plenty of time-honored traditions that will stay the same: getting dressed up, buying corsages and boutonnieres, enjoying a fancy meal (but at the Prom itself), seeing friends, and simply making memories that will last a lifetime.
Indeed, this year's Prom will be "A Grand Affair"!