Mixin' It Up With Chocolate Covered Strawberries
Culver's kicks off summer with in a sweet way with its Chocolate Covered Strawberry Concrete Mixer.
Ever since Reese's put chocolate and peanut butter together, the world has been obsessed with concocting other sensational flavor combinations. And, none may be better than chocolate covered strawberries.
But, Culver's has elevated that combo to a new height by featuring it as one of their signature Concrete Mixers. What better way to kick off summer than with a rich and creamy chocolate custard laced with strawberries! According to the Culver's menu, this bowl of custard is full of "…plump strawberries and novelty chocolate."  But, does it actually taste as good as it sounds? Definitely.
It was an extremely delicious desert! It wasn't too much strawberry, nor too much chocolate, but blended perfectly. The way that the custard merged with the novelty chocolate was sweet, but the strawberries had a tarter taste, creating the perfect chocolate-strawberry dessert. As an added bonus, a lucky consumer just may get a whole strawberry with chocolate melted inside!
While Concrete Mixers may be the highlight of the custard menu, many people go to Culver's to enjoy their homemade custard in a sundae, a float, a malt, or even just in a cone. With their famous Flavor-of-the-Day, Culver's knows how to keep its menu fresh and exciting. And, well they should. They've been at it a long time.
Culver's was founded in 1984 by Craig and Lea Culver. Starting out with a small A&W Drive-in, in Sauk City, Wisconsin, Culver's blossomed into an outstanding restaurant, with great food, and delicious desserts. They have come a long way from their  start and can't wait to see it progress even more than it already has, proving that–although also a delicious flavor on their menu–Culver's is anything but "vanilla."
About the Writer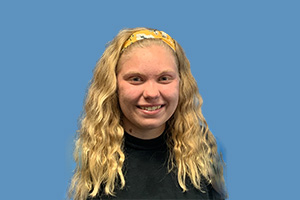 Dorothy Moyer, Writer-East
Hi! I'm Dorothy. This is my first year writing for the Pennant/Genesis. I am a freshman at the East campus. I've always wanted to be a writer for the...