The new restaurant, the Tipsy Biscuit, is worth your time and money
The Tipsy Biscuit is a fairly new breakfast and brunch restaurant located right before you enter the heart of Downtown Elkhart on Main Street.
A restaurant that I have been eager to try ever since I discovered it while reading the news at 2 a.m. on a Saturday night, The Tipsy Biscuit reminds me of a grandma's house: pops of color, a hint of vintage, and walls covered with picture frames and cooking materials. It gives off a "homey" feeling which sets the mood for how the food tastes because a home cooked meal at my house hits the spot, Every. Single. Time.
After waiting only about fifteen minutes to be seated, which is a surprise due to the fact it was Saturday, I knew exactly what I  wanted: one of the Tipsy Biscuit specialities, either the "Chicken on a Biscuit" or the "Chicken & Waffles." Once viewing the pros and cons, the "Chicken on a Biscuit" was the best option because trying their buttermilk biscuit made from scratch was a must and I wanted an extra side. 
The Chicken on a Biscuit exceeded my expectations and had me begging for more.
First off, the main item, the chicken biscuit was huge, two pieces of southern style fried chicken came on the sandwich. And the flavor hit my mouth immediately, it tasted like the chicken was marinated in Frank's hot sauce giving a savory taste to it and the sweet tasting breading really brought the whole piece of chicken together. The biscuit was perfectly baked, nice and moist with a good buttery taste to it and of course it was bigger than any biscuit I've ever eaten. 
Second off, the meal also came with a choice of potatoes, tater tots or skillet potatoes. I didn't know which one to choose and the waitress convinced me to try the tater tots because they were like no other. She was sure right about that! They were light and fluffy and crispy on the outside and had a good enough flavor to keep my mouth watering.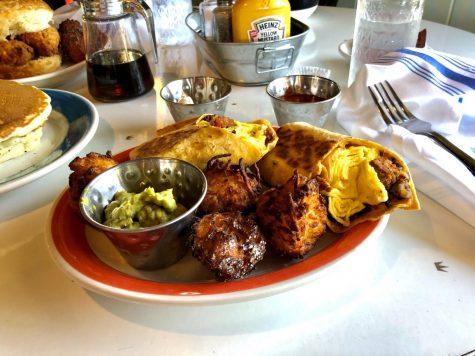 This brunch gave me a different perspective on going out to eat in the morning. I usually hate going out to breakfast due to the fact that I usually pay about ten dollars for a meal that I can easily make at home for a lot cheaper. Additionally, I do not eat pork limiting my options to usually just pancakes or waffles.  But The Tipsy Biscuit has multiple protein options besides pork such as turkey sausage, vegan sausage, and crispy tofu. 
My only complaint is that there is limited seating and parking making it a little cramped, but that is expected for restaurants downtown. 
Overall, I give The Tipsy Biscuit a ten out of ten, it is definitely worth your money and your time, with reasonable prices and great service.
The views in this column do not necessarily reflect the views of the GENESIS staff. Reach Jahlea Douglas at [email protected]