Athlete of the week: 400m queen, Laila Nagy
Senior Laila Nagy plans another run at State.
GENESIS: Tell me about your passion for running, what sparked it and why do you still do it?
LAILA NAGY: I started running because I wanted to stay active and make new friends in elementary school and in middle school, when I became good at it, I just couldn't wait for track season to come around each year. 
G: Track is a long season, it is basically all of second semester. What motivates you to keep going?
LN: Cross country is a LONG season. Track, on the other hand, seems like a short season to me. As soon as track starts, it feels like the second semester starts to fly by and I countdown the weeks until summer by how many meets we have left. I don't need motivation to keep me going because my love for track is enough. 
G: Along with running you also maintain a good GPA, how you keep a good balance between the two?
LN: Pure luck.
G: Last year you were a real star in the 400m and even made it down to State. Tell me about that experience.
LN: At the beginning of the season, I remember people constantly telling me "you're definitely making it down to State this year," but I didn't believe them until I was able to finally break 60 seconds in the 400 at sectionals last year. That had been my goal the entire season and finally being able to accomplish it made me realize that I just might be able to run at State.
The whole experience at State was surreal. The guys ran on Friday and girls on Saturday, so needless to say, I hardly slept at all on Friday because I was a nervous wreck. However, when I finally stopped worrying about how well I could or could not do and just started being proud of myself for making it to State, I was able to calm down and just run the same race I had ran so many times before. 
G: Now that you've made a name for yourself in Track and Field, what have you done to prepare for this season?
LN: I thank crossfit and off season training for allowing me to make it to State last year and I prepared the exact same for this season, so I am hoping for the same results.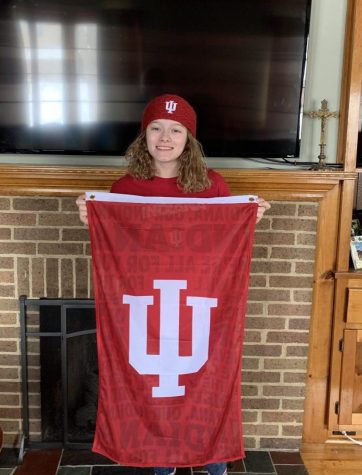 G: As a senior graduating in the spring you will be turning in your red and gold for crimson and cream. Why did you choose IU as your school and what do you plan to study?
LN: I love the big campus feel and the college town  that surrounds it. I plan on studying environmental management at the O'Neil school and possibly even going on to law school post graduate to become an environmental lawyer. 
G: Since this is your last year running track, what is your goal this season? How do you want to be remembered?
LN: My overall goal is to of course make it to State again. A smaller goal of mine is to hopefully get my 400 time down to 56 or 57 seconds. I ran 59.4 seconds at State last year – exactly a second off of the school record. I just want to be remembered as someone who tried their hardest to win the race she loves. Which I do. The 400 is my absolute favorite race. It's what I run best, and I want to be remembered for that.