Artist of the Week: Molly Wruble
Senior Molly Wruble has a passion for painting and drawing and hopes to pursue a career in art. Keep reading to learn more about her passion, inspiration and plans for the future.
GENESIS: Have you always considered yourself an artist?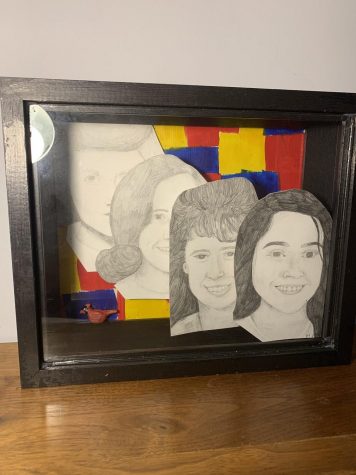 MOLLY WRUBLE: Considering myself an artist is something that just happened. I know that I've always loved doodling, but it wasn't until I was in middle school that I considered myself an artist. 
G: Art is such a broad category, what kind of art do you generally like to create?
MW: I love painting and drawing. Recently, I've been focusing on realistic drawings. 
G: Why do you continue to create art? What is in it for you?
MW: I continue to create art because it's a way for me to express myself. I do sell my art from time to time, so I get a little bit of money for what I do make. 
G: How do you come up with things to create?
MW: Usually I see something I like on Pinterest and use that as inspiration. But I use everything around me as inspiration. 
G: What is your favorite piece of art you've created? What is the story behind it?
MW: My favorite piece I've ever made is a drawing of four generations of women in my family in a shadow box. It starts with my great grandma and ends at me. I think the reason I love this piece so much is because I also created a cardinal and cardinals were my great grandma's favorite bird and she passed when I was young. I actually made my grandma and mom cry when I presented the piece to them.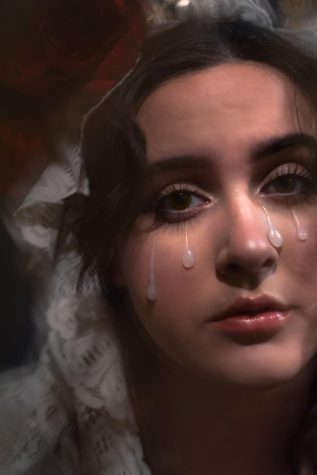 G: Not only do you create art on 2-D surfaces, but you also use your own faces as a canvas. How long does it take you to create a masterpiece on your face?
MW: Creating a look on my face can range anywhere from 1 hour to 5 hours depending on what I choose to do and if I get distracted during it. 
G: At times you are also a model, recently were a model for former Memorial student, Abbie Krider. How do you play the character so well?
MW: I love helping others bring their art to life and with the shoot with Abbie that I modeled for, I've been wanting to do something like that for awhile now; she just beat me to the punch. Abbie said I fit her inspiration and I went with it. 
G: Lastly, do you plan on pursuing a career in art? Why or why not?
MW: I do plan on going to school for drawing and illustration with a minor in painting. I hope that I leave school with a job in the arts whether it be in marking and advertising or if I'm a company's designer.