STRESSED OUT
Do you know what is stressing us out and how our school is dealing with it?
By the age of 18, 91 percent of Generation Z's (ages 7-22) say that they have experienced at least one physical or emotional symptom due to stress in the past month and the students at Elkhart Memorial are no different.
In a survey conducted by GENESIS, 78.5 percent of students reported being stressed out "a lot."
Stress comes in a number of forms, whether it is because of work, school, or even money, stress is apparent in the lives of students. But is stress becoming the new norm for teenagers? And is Elkhart Community Schools equipped to help students who are feeling the stress?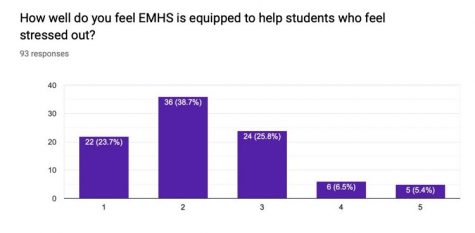 According to our survey, students also do not feel like our school has the resources to help them through struggles that may come up throughout the school year.
If not counselors, then who? Classmates? Lunch ladies? Janitors? Teachers?
"Time is a factor, they [teachers] can't have those conversations with twenty students which is a problem. It should be an open conversation," Natalie Bickel, the Elkhart Community Schools Superintendent of Student Services said. "Relationship is key and it's the kids that are in that middle ground that we are missing. They are performing well enough to where it is not concerning on our end because they are passing. They may be passing with C's or D's, but they are passing. Those are the kids we have to focus on a little more and be more intentional with because they are isolating themselves."
And maybe this is true. Maybe teachers can't logistically talk to every single student, but if they do get a chance to talk to some students, how can they effectively respond when they do not even know the key factors that are stressing students out? 
After surveying Elkhart Memorial teachers about the common stressors found in teens, GENESIS found that 70 percent of teachers thought that students were stressed about being bullied or not getting along with others. However, according to data released in September by American Psychological Association, only 35 percent of Gen Z are stressed about this.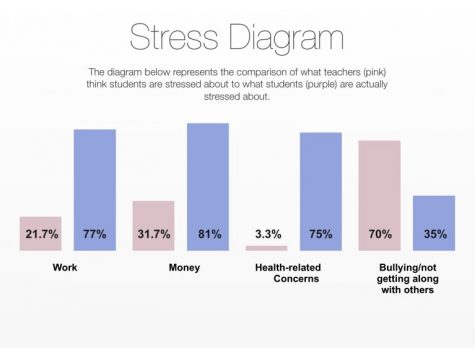 If teachers would genuinely ask how a student was feeling, a genuine response would come. Eventually, this conversation would lead to figuring out that bullying is not that big of an issue compared to stress from work and money.
"We [staff] have to stop with the busy and focus on the need at that moment," Bickel said.
According to the American Psychological Association, 77 percent of Gen Z's are stressed about their jobs, thus negatively impacting their productivity at school. 
Students cannot focus on applying to college or even on their school work if they are feeling an overwhelming amount of stress. Instead of punishing or getting frustrated with the student, conversations need to be had to figure out what is causing them to constantly be exhausted at school. 
"My counselors should be asking questions and should be looking for those underlying questions and we should be there as a place to come and talk to," said Gail Draper, the Elkhart Community Schools Director of Counseling. 
Students need to feel comfortable talking to their counselor about anything including simple things like stress and they need to know that their counselor is not just available to talk about graduation, college, and scheduling. 
Limited resources to aid students  
On Thursday, Dec. 5, Your Life Speaks founder, Nathan Harmon visited Elkhart Memorial for the second time in two years. As the top booked school speaker in 2017, 2018 and 2019, Harmon shared his unique message about his troubling past and how he overcame it.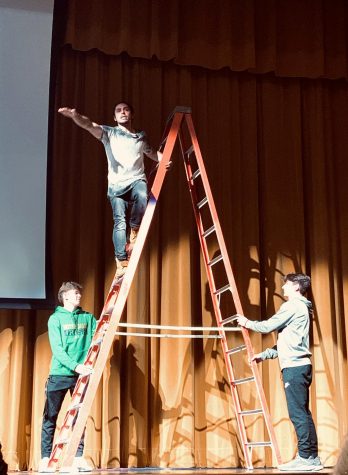 "I found Nathan Harmon's speech impactful because of the way he was telling it with all of his emotions, and I related to and understood everything he was saying," junior Jaudiel Estrada said. "In my point of view, I feel like yes, he was more impactful than a teacher because he's been through basically anything you could think of and he gave out resources to help."
Resources should be available and accessible to students at their school at all times. However, mental health resources seem to be limited for not just Elkhart Community Schools but for school systems around the country, mainly in the area of school psychologists.
Elkhart Community Schools in particular has a school psychologist position that is currently unfilled. With a lack of qualified professional, this leaves teachers with the added task of providing support to their students.
Because of this, no matter how busy the school day becomes, the simple question, "how are you?" needs to come up more often. Furthermore, teachers need to be trained on the right ways to address students who are dealing with stress. The guidance department also needs to be a resource for students who are struggling.
"We [counselors] may not necessarily solve the problem, but we are here to listen and maybe provide alternatives to the situation," guidance counselor, Allison Makowski said.
But until schools can equip themselves with qualified professionals, students who are struggling should take Harmon's advice and talk to their peers and teachers or:
Call: 1-800-273-8255 the suicide hotline which can be used 24/7 for confidential emotional support for people in suicide crisis and emotional distress
Visit: Sprigeo a platform that anyone can report anonymously to ensure that schools and communities are safe for kids and teens.
Download: Moodpath, an app available in the App Store for iPhone users. This app helps teenagers detect if they are experiencing depression by receiving questions three times a day about their emotional status. After about two weeks, the user gets a professional assessment which could then can be shared with their doctor.