What is Memorial Student Tech Services and who is involved?
Heidi Krusenklaus, EMHS teacher of 30 years, received permission in the fall of 2017 to start a tech club at Elkhart Memorial High School: Memorial Student Tech Services (MSTS).
"Heidi had an idea that she was pursuing around the same time that I got hired," said Jason Inman, Director of Technology Services for Elkhart Community Schools, "and so we met and kind of married together the ideas and turned [the Memorial Tech Service Desk] into what it is now."
What it is now is not a club, as many still believe. It is an internship for students who are interested in technology or who just want to give their resume a boost before they leave high school.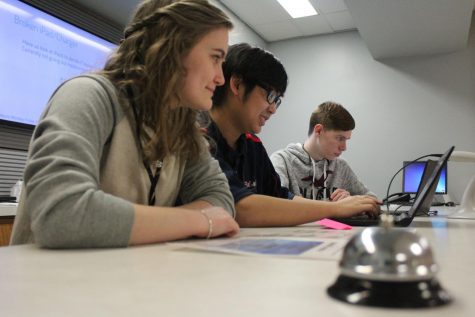 "The Tech Service Desk is an area where we're trying to kind of simulate the Geek Squad at Best Buy or the Apple Genius Bar," Krusenklaus said. "We're trying to provide support to students and staff when they're having hardware or software or app issues."
The desk is an operation of the ECS Technology Department, which handles everything technology-related throughout the school district.
A "single point of contact" is needed for a tech department to function efficiently. Senior Technical Support Manager, DJ Rhoades, likens it to a 911 dispatch center. It basically means that people report problems to one place and that place manages those problems, saving time, effort and frustration. 
"In IT departments, there is something called ITIL (Information Technology Infrastructure Library)," Inman explained, "and it's best practice for support to have a single point of contact for users to call to report trouble."
The Memorial Tech Service Desk is a single point of contact for those at the school. 
Student-Interns
The desk is manned by interns during the school day. These interns are Memorial students who have the internship on their schedule as a class in which they earn credit.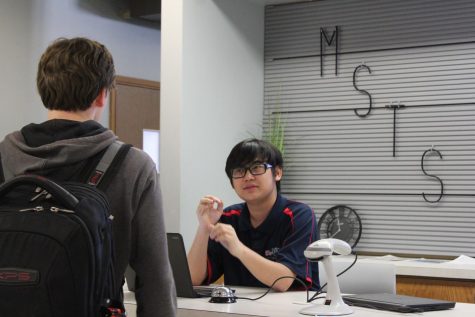 "They are there to troubleshoot technology issues a student or staff member is having with their devices," Krusenklaus said.
According to Rhoades, the internship helps students expand their knowledge, saying the desk is "somewhere you can test the water and figure things out and have somebody there to support you before you're just thrown into the deep end."
Mrs. Krusenklaus
Krusenklaus manages some aspects of the Tech Room by helping to create procedures and protocol and making cheat sheets. She also aids in communication to staff and serves as an instructor to the student-interns, managing their individual projects and creating a curriculum that will improve their soft skills and job readiness— all of which keeps the desk running smoothly.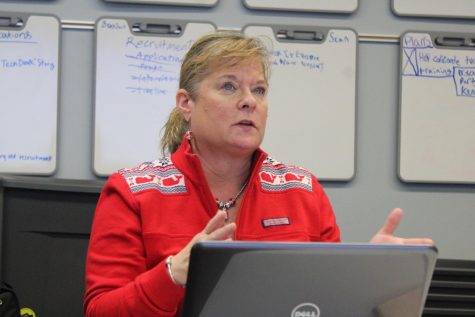 "She plays a very important role because of a lot of things," Inman said. "One of them is basically recruiting students and getting us those student resources which this would be a complete failure without. But then also helping to steer [the students'] education in a way that we can benefit from in this partnership."
Supervisors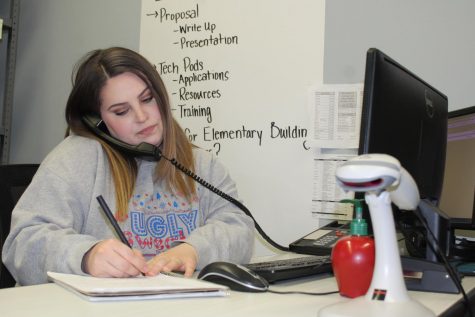 There are adults in the room behind the desk too. According to Rhoades, they have two main roles: the "primary" one being "to support the overall district as far as being that one point of contact"— meaning that they answer phones, gather information, and send techs out to help customers if they are not able to do so themselves. 
"Their secondary focus when they're not tied up with helping the Tech Department," Rhoades said, "is actually helping grow the Tech Desk for Memorial and helping come up with policies and procedures that work here that can be implemented elsewhere."
Heading up the district tech help desk is Jennifer Smith.  A former teacher, Smith has been placed at Memorial to assist with operations at Memorial.
"She's been a godsend," Inman said, "because she understands the teachers' side of things as well as [the Tech Department's]."
Moving Forward
There may be tech pods (in secondary schools) and college-interns ECS's future.
According to Inman, the Technology Department is working with Smith and Krusenklaus "to make Memorial— and, in the future, Elkhart High School— the centralized service desk for the whole district."
"We support Heidi and she supports us," Inman said. "It's a mutual partnership that we're wanting to continue to build off of and expand throughout the district."
If you are interested in being a part of the Tech Team, contact Mrs. Krusenklaus or stop by the Tech Desk and to pick up an application. 
For more news on the Tech Desk or information about tech issues, be sure to follow GENESIS and check out the kiosk display at the Tech Desk.