"This citizenship means everything to me."
Senior Joangely Hernandez shares her story of becoming an American citizen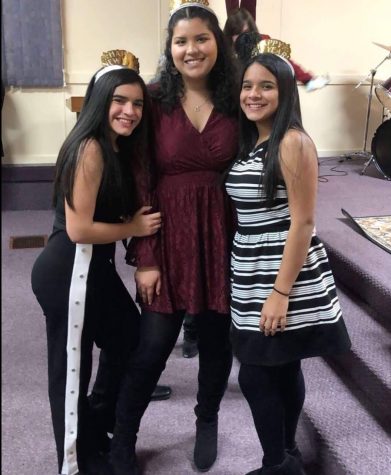 The beginning of a horrific crisis happening in Venezuela brought three year old Joangely Hernandez and her immediate family to the United States.
"It was starting to get bad. The government was turning into a dictatorship," said senior Joangely Hernandez. "So we decided to leave before we didn't have the option to leave."
But her story is much different from most. Since Joangely's parents were pastors in Venezuela, the United States government granted them permission to come to America on a religious visa.  Thanks to family friends who lived in Florida and ran a church, Joangely's parents were allowed to work at the church, but they were not allowed to get paid since they could not legally acquire a work permit.
This arrangement was only temporary though. After only two years, the religious visa would expire and the Hernandez family would learn their fate: whether or not they would be granted with permanent residency or what most people know as a "green card."
Moving to a different country is not easy for anyone, let alone a three year old girl. The culture and the language barriers are especially challenging to overcome.
"It was weird. It was something new," Joangely said. "and it was kind of scary because you don't really know the language, you don't the people, you don't know the culture. It was a little hard to get used to."
At age four, she started  preschool at a Head Start program  in Florida. At this time, she did not know English, making her the outsider because everyone was talking to one another and she could barely understand what they were talking about.
But once she entered school, she was forced to learn English through immersion because an English as a Second Language (ESL) program was not an option for her at the time. The consensus was that at her age, learning everything in both English and Spanish would be too confusing. With the help of her eight year old brother and an English-only classroom environment, Joangely learned to speak English.
Gaining Residency
Since the religious visa was only temporary, the Hernandez family needed to apply for asylum.
When a person seeks asylum (usually due to fleeing the harsh conditions of their home country), they present their case to the United States government, and it is the government who decides whether or not that person is granted with permission to stay.
But two years went by quick and the Hernandez family was running out of time, with only a month left and no residency, they became fearful of deportation.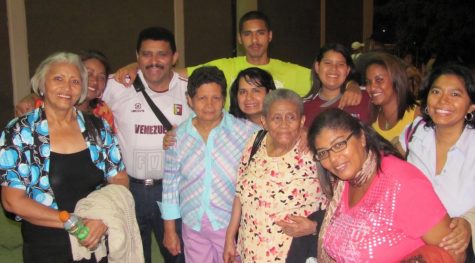 "We were fearful of getting deported because everyone told us that our case couldn't be saved and we only had a month before our deadline," Joangely said. "If we didn't fix it between that month, we would have gotten deported because our stay would have expired."
Going from lawyer to lawyer was difficult, as each consultation with the lawyers ranged around $500, which was $500 for all of them to tell the Hernandez family that their case could not be saved. But thanks to Ana Carvajal, an immigration paralegal, the Hernandez family was able to save their case in a week for a charge of $2,000. However, this process was not easy.
"I remember going to her house after we got out of church at 12. We would go to her house and we wouldn't leave until like 2 am [because we were] filing paperwork," Joangely said. "And she would be like 'bring me copies of this, bring me copies of that, go get your fingerprints, go get this and that.' And then the next day, we would go to school and then straight after that we would go to her house. I remember me and my brother would sleep on the floor because they [Joangley's parents] were there for so long and we did that for the week."
Once Carvajal had saved their case, she petitioned for them and it granted them another month of time. In that time, the Hernandez family was able to go through the steps to establish residency. This was a big step because now Joangely's parents could get a job legally and be paid fair wages.
Gaining Citizenship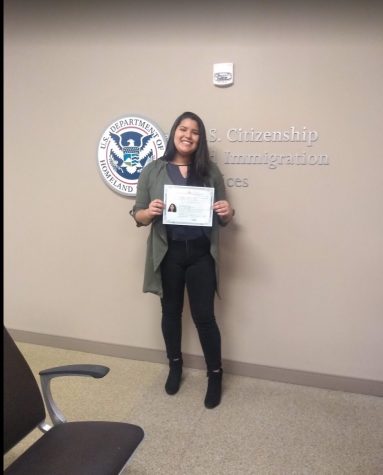 After establishing residency, the wait began in order to proceed to the next step, which is when a person is granted naturalization.
Naturalization is the admittance of a foreigner to the citizenship of a country, and because everyone's situation is different, it can be a waiting process–five years from the beginning. Upon applying for naturalization an applicant must prove that they have lived in the United States for at least five years and that they have not left. After proving this and applying for naturalization, a person must live in the United States for an additional five years. During this time, they may leave the country, but they must prove that they lived in the states for at least 30 months during that time otherwise progress is lost. Once progress is lost, a resident must start over and it is not likely that they will be accepted a second time.
As for Joangely, it took her 15 years to finish the naturalization process. Even though her parents already had gained citizenship, Joangely did not because she did not apply in time, so instead she had to wait to do it herself once she turned 18. But most of the time if a minor applies in time and their parents get their citizenship, then the minor automatically gains it too.
The final step in becoming an American citizen is taking the naturalization test. This test consists of four different parts: speaking, in which a proctor asks the person who is seeking citizenship a series of questions to determine their ability to speak English; reading, in which an applicant must correctly read out loud in English; written, where the applicant must prove that they know how to write in English; and civics, where the proctor asks the person seeking citizenship a series of civics related questions.
After completing all four parts of the test, Joangely was told whether or not she passed. Due to her dedication to studying, she passed on her first time. The civics questions that they asked her were randomly chosen from a list of 100 study guide questions. 
"
I was so happy to get my citizenship. I was so happy that it was over. You know you don't have to see lawyers anymore, you don't have to file applications, you don't have to save up for any specific thing, and that you don't have to keep studying for something, or waiting to get answers back before the next deadline or expiration date."
— Joangely Hernandez
So many people take living in the United States and having a job for granted, yet for some, it is a dream that they will devote their blood, sweat, and tears to achieving. In the same breath, most will never even achieve their dream of gaining citizenship in the United States because it is not affordable.
According to Lindsey Bever and Deanna Paul from the Washington Post, the United States deported more than 256,000 people in 2018.
"I would change [the citizenship process] so it is more affordable." Joangely said. "I think the biggest problem is money. I know in my country right know there is a crisis and one dollar here is what they make in a month. You can't expect someone to pay $500 for one application when they just moved here and they don't have a job and can't legally work and afford the process and that is why a lot of illegal immigration happens."
The citizenship process is not easy; it is expensive and the wait is extremely long.
"It is really worth the wait and the money to get your citizenship," Hernandez said. "You get a new opportunity here in the country, something that people take for granted. This citizenship means everything to me. It is an actual opportunity to be able to stay here and get finance aid and make it further than my parents were able to."