Christmas Display Contest: What's All The HUBbub?
There's nothing like a bit of "spirited" competition to liven the atmosphere!
That's exactly what happened at Elkhart High School with a holiday decorating contest between the six School of Study hubs: Business, Art & Communications, Human Services, Health & Public Safety, Natural Resources, and ETI. Although no students were in the building to watch the judging on Friday, it didn't stop the staff from putting on a great show. This competition was designed to help build morale and unity within the hubs by bringing them together in a competitive situation.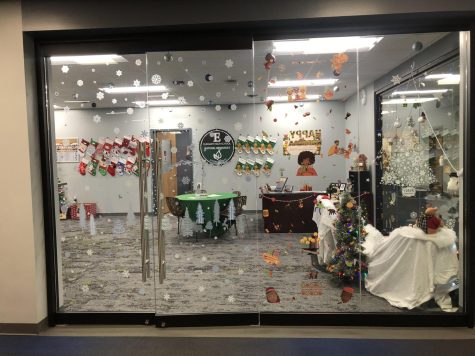 Each School of Study rose to the occasion, crafting themed designs with their festive set-ups. While all showed just how talented and artistic this school can be, Arts & Communications won the overall competition and was rewarded with a pizza and doughnut party. Second place went to Human Services, who received a pizza party, and third place–Health & Public Safety–will enjoy a doughnut party. The school initiated a great new tradition for the school's staff and reflected Christmas spirit onto all the students. One of the judges of the competition stated, "The School of Study teachers were super competitive and put a lot of effort and heart into the decorations they put up."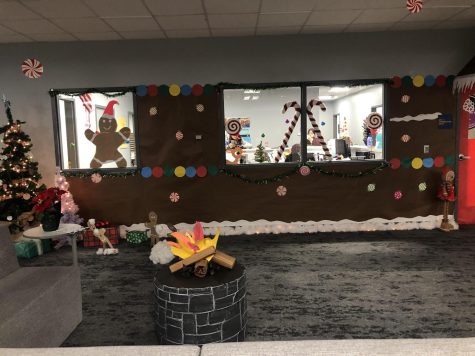 Arts & Communications won by their amazing creativity and hard work in designing a gingerbread house–complete with fireplace and train.  Although not among the top three, Natural Resources created a window display that rivals anything Macy's would design. Clearly, all hubs were winners. 
Leilah Topoloski, a sophomore at Elkhart High School, said, "I enjoyed watching the hubs go against each other in this contest. It was fun to see what all the hubs had to offer and wondering who was going to win!" This proves that the child in all still remains–whether staff or student–and that school can be fun.
Let's see what the Schools of Study have in mind this Easter! Could there be a schoolwide Easter egg hunt? They better hop right on that!