Student Sections: An Important Player In Any Game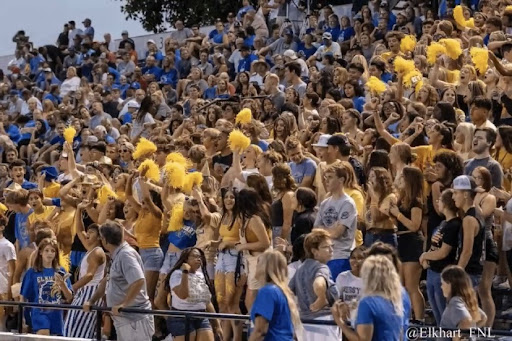 Fans of all ages play such an important role in keeping the energy of a sports game lively–specifically, the student fans.
Student sections are an institution at Elkhart High School sporting events, such as football, volleyball, and soccer. With football, for instance, students get energized for the fun themes: USA colors, Hawaiian, Pink-Out, Frat Boy, Costume dress up, and even Neon. Gathering together to support athletes also helps students bond, which is especially important as one high school now.
Senior Garrett Ganczak, says, "I've played baseball and football the past three years in high school. Hearing the fans come out and cheer us on gets us very hyped." Continuing on, Ganczak adds, "Our student section is usually the most visual and vocal out of the whole crowd.  COVID-19 regulations had obviously affected the amount of people allowed into games and matches," he notes, "so looking into the stands and seeing them jammed-packed made me and my teammates so happy." 
Payton Schulteis, a junior volleyball player, shares Ganczak's feelings. "Our student section for volleyball is directly behind our home court," she says. "It's so fun to hear their encouraging chatter while we're playing our match. They usually get so pumped up and into it for us–it really does greatly impact how we play." 
Many athletes note that, despite all of the positives of being able to resume sports last season after the pandemic, one aspect was still missing: the fans. This left friends and classmates out, creating a noticeable void. Student sections are such an integral part of the high school sports experience–and the athletes have come to consider them as part of their teams.