"Trading" Places Inside EACC
They take their trade seriously.
Serving the community for over three decades, the Elkhart Area Career Center has provided its students with trade skills and the opportunity to obtain degrees while still in high school. Among the programs is the Automotive Service Technology–a course dedicated to the inspection and upkeep of vehicles. As a result, many of these students graduate with a high school diploma and a second degree as a certified technician.
The majority of these classes run from the morning to the early afternoon in the Career Center. This class, however, doesn't require its students to carry around pen and paper. Instead, thei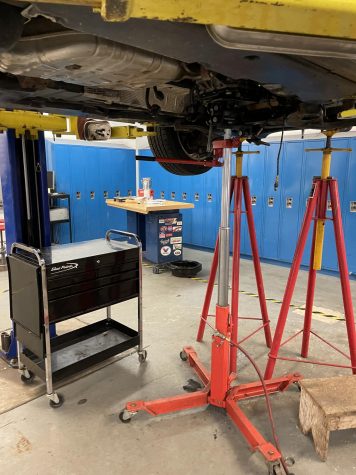 r tests are naming parts and doing jobs. These students work hands-on every day, practicing and perfecting their craft.
One of these aspiring technicians, Diego  Vasquez, a junior, puts forth his two cents: "The class gives me time to focus on my career." Continuing, he adds, "If I do my classes correctly, it gives me the chance to graduate with an associate's degree before I get into college!" With this in mind, Vasquez mentions that a few of these students immediately enter the workforce after graduation. He, however, goes on to add, "I plan to go to a one-year college, get the rest of my credits, and become a certified technician." 
While the class is demanding and nontraditional, it offers many of these students a chance to begin their careers debt-free. It is offered to juniors and seniors, as it is a two-year program. If interested in participating in this course next year, counselors will be able to take applications.