Cobra Kai Gives Fans Reason To Celebrate This New Year's Eve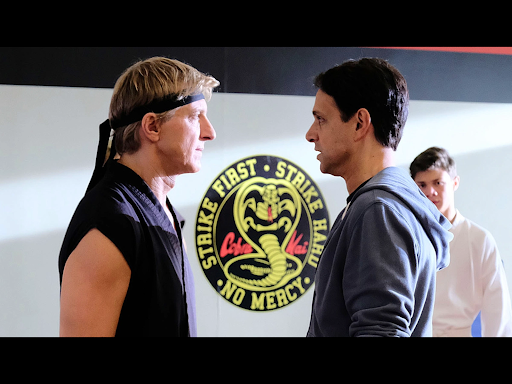 Karate Kid was one of the most popular movies in the 1980s, having three movies made over the course of five years (1984-1989). Ralph Macchio played "the Karate Kid" in all three movies. In the past few years, Macchio has made a comeback to the Karate Kid "spotlight."
In May of 2018, Cobra Kai was released to Netflix as a spinoff of the original Karate Kid. Still having Ralph Macchio playing Daniel LaRusso and having William Zabka as Johnny Lawrence. So far, the show has three seasons, but at the very end of 2021, there will be a fourth season. This gives New Year's Eve celebrators and Karate Kid fans another reason to celebrate, as Cobra Kai returns on Dec. 31.
Junior Dennys Ramirez says, "Personally I think the first season (of Cobra Kai) was the best." She also notes that the original Karate Kid was the best of the movie versions. "I like that they made a spinoff of it," Ramirez adds. "I watched it because I had watched the original Karate Kid and I enjoyed watching the original actors come back." Her favorite character is Daniel LaRusso, because he is very independent.
Season 3 was rated No. 1 in 28 countries, with 85 countries having it in the top 10 shows. The original rivalry of Cobra Kai is still there, but with new characters. And, almost 40 years later, the show has become insanely popular among all generations. Still to this day in the show, the Cobra Kai dojo is run by Kreese, an ex-military man. The All Valley Tournament is still being competed in by the Cobra Kai's–but this time, two long-time enemies will come together and run Miyagi-do Karate, fighting for the All Valley title. 
Even better news, there is already a Season 5 in the process. This season will feature ideas that came up in the writing of Season 3 that didn't fit into the time frame of it. Season 4 will feature more of a role for Daniel's son, Anthony LaRusso. This season will also have Terry Silver, the millionaire who apparently saved Kreese's life in Vietnam. But, he has revenge planned on Daniel LaRusso, as back in the day, he had a beef with Mr. Miyagi.
Hopefully, the audience will see more than five seasons of Cobra Kai as many families around the world have fallen in love with the Karate Kid story and characters all over again–nearly 40 years after the first movie.