Grammy Awards: A Musical Time Capsule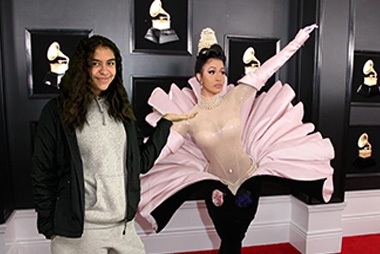 Flashy clothes, fancy awards, and—best of all—the famed celebrities who showcase it all. For these people, awards can make or break it.
The Grammys celebrate the accomplishments of these celebrities and also showcase some "interesting" fashion pieces. Every year, there is something new to be said about the show, whether it be a performance of an artist or a captivating acceptance speech. This year promises to be no exception.
2020 is said to mark the end of an era. However, before something new to come, there has to be change. Thus, the Jan. 26 event will usher in a year of change and exciting new trends. This Grammy show will be 62nd and still is keeping many of its viewers on their toes. As music evolves and tastes change, so do the awards. They represent the innovative artists who break the boundaries and bend the rules of the game. The Grammys recognize the diversity of these artists and celebrate it!
Cadence Snider, 10, raves: "Every year there are new award shows and new artists, but the Grammys are timeless. They don't just showcase one particular type of genre of music, but they recognize everyone." With the changing times, what was once popular can change in an instant and become something new. The Grammys serve as a musical time capsule for each year.
Some of the artists who have helped shape 2019 include Lizzo, Ariana Grande, Billie Eilish, Juice Wrld—and so many more. These artists have been on replay all year and do not seem to disappoint their fans. The result of this tireless work ethic pays off when given an award, such as a Grammy.
The award show will prove to be both a celebration of a new Roaring 20s and a farewell to 2019's music-filled year. Regardless of who wins, who performs, or even who gets snubbed, the event is sure to be entertaining.