Hodges Has High Hopes
After breaking cross country records, Emma Hodges is looking forward to what her senior year in track holds.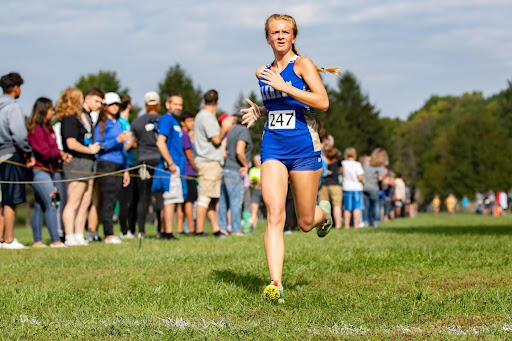 As a new, combined school, setting one of the first school records is very rewarding, but making sudden strides and reaching not only team goals but also personal goals is even more rewarding.
Senior Emma Hodges has recently broken Elkhart High School's 5K record of 20:38 that was previously set by Irie Roll (ECHS 2021). At the NIC Cross Country Conference meet on Oct. 2, Hodges broke the school record by 34 seconds. In normal time, 34 seconds does not seem like much, but for runners, it is an amazing amount of time.
This new personal record and school record got Hodges a news interview with local channel WSBT 22. Then, after breaking that record Hodges gained a new time of 19:56 at Sectionals, being under 20 minutes for the first time ever. Hodges has been running since seventh grade, working her way up on the team every year. "She's been one of the most committed and motivated runners from day one," says Coach Bekah Shenk in that interview with WSBT. Hodges has won an award every season so far, which according to Coach Shenk in that same WSBT 22 interview, is "pretty rare for an athlete to do that well." Hodges has had an amazing amount of support from her family, team and coach. 
Hodges also has some advice for younger athletes who someday hope to reach their goals. Hodges says, "Keep working hard and push past your limits" after being asked "What is your advice for someone who wants to get where you are as an athlete?" Hodges also says, "All the work that I'm doing and pain I'm enduring is worth it" as a response to the question "What would you tell your younger self about your senior year cross country season?"
This season was not Emma Hodges's only goal, though. She has high expectations for her upcoming senior year track season in 2022. "I hope get our 4 x 800 back to Regionals and do even better than last season."