Great Things DO Come From Elkhart!
Annie Drews, Olympic Gold Medalist, is an inspiration to all who dream big.
Annie Drews went from one of Elkhart's top ranked volleyball players to an Olympic gold medalist in 2021, becoming a big hit on the U.S. and international courts–and an even bigger hit at home.
Clearly, Annie is more than just a big fish in a small pond. However, she will always remain their "little girl" to Mike and Carrie Drews. Both of Annie's parents have taught in the Elkhart Community Schools for years. Although Mrs. Drews recently retired, Mr. Drews is currently a business law and ethics teacher on the West Campus. "It's kind of amazing–we are really proud of her," Mr. Drews states about his daughter.  "She has worked really hard for the past five years and given up a lot of stuff." As a proud, yet very humble, father, Drews has followed Annie throughout her high school years of volleyball—starting in Elkhart for her first two years at Central and then transferring to Penn, where she completed her last two years. "She was lucky enough to be a part of two state championships at Penn," Drews notes.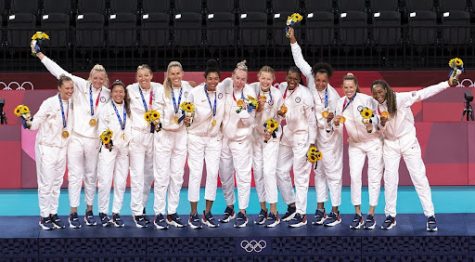 However, it was not as easy moving up the ranks after graduation. "She had played a year of pro volleyball and thought she was ready to give volleyball up–this was in 2016," Drews states. "But, one night she got a call from Coach Karch Kiraly, who told her if she would just hang in there another year or two until after the 2016 Olympics, athletes always retire." 
Annie stayed patient and waited. "Coach wanted to have her out the following summer at Anaheim," Drews recalls. Annie had two weeks to show the coaches that she was good enough, and she fully took advantage of it. "She went out there and just loved it," Drews explains with a grin from ear to ear. "She kept getting better every year–she kept making rosters until she finally made the Olympic Roster," he notes.
What Drews wants people to remember most about Annie–more than even her gold medal–is what she represents as a person. She is an inspiration to not give up on one's dreams. The medal, he says, is just an outward sign of an inward greatness.