Hitting the Theater Over the Holidays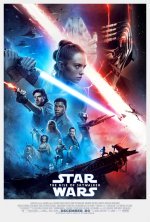 Don't let the holiday be without entertainment! While enjoying the silver bells, also check out what's showing on the silver screen. Listed are some of the holiday attractions coming out today, as well as on Christmas Day.
Star Wars: The Rise of Skywalker:  
In the series finale–that has had fans waiting for 40 years– audiences will finally see how it concludes for these characters from a galaxy far, far away. While it may be the last for Kylo Ren, local actor Adam Driver is starring in Marriage Story, also out in theaters.
Release: Dec. 20
 Cats:
In this musical, there is a group of cats called the Jellicles who have to decide which of their own will die and discover their version of heaven,  "Heavy-side Layer." If nothing else, the star-studded cast of singers will make this the "cat's meow."
Release: Dec. 20
Little Women:
This remake of the famous classical novel is telling the story of the March sisters and their neighbor and family friend Laurie as they navigate the trials and hardships of becoming adults in the post Civil War-era America.
Release: Dec. 25
Spies in Disguise:  
Starring Will Smith and Tom Holland as Lance Sterling and Walter Beckett, respectively, Spies in Disguise is a tale of two spies whose mission goes terribly wrong when Sterling gets transformed into a pigeon by Beckett.
Release: Dec. 25
Just Mercy: 
   Just Mercy is a heartbreakingly touching story that will show audiences how unjust the justice system truly is. The film is based on a true story of a young lawyer who over the years defends an innocent man, accused of murdering an 18-year-old girl.
Release: Dec. 25
A Hidden Life:  
This film is based on the true story of Franz Jagerstatter, a man who was raised as a simple famer but became a symbol of heroism when he refused to bow to Hilter's rule and fight with the Nazi's. Jagerstatter was put on trial and executed as a traitor.
Release: Dec. 25