They're Creepy And They're Kooky…And, They're On Demand!
Addams Family 2 hits theaters–and streaming services–Oct. 1.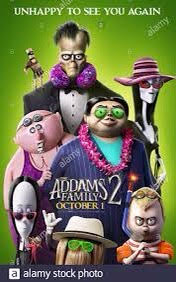 Addams Family 2 is not only "coming to theaters near you," but it's also coming into your home!
Today–Oct. 1–Addams Family 2 will be available to watch in theaters and On Demand, using most any streaming service that allows viewers to rent or purchase movies, such as iTunes, Amazon Video, YouTube, and Google Play. According to deadline.com, the price to purchase the movie will be $19.99.
The original Addams Family movie made almost $10 million on it's first day, and this new sequel is expected to do the same. However, not everyone has seen or heard about the sequel, despite the extensive advertising. "I haven't seen the movie being advertised anywhere!" admits sophomore Christopher Vargas. "I used to watch the reruns of the original Addams Family show when I was little." Reflecting for a bit, Vargas then goes on to say, "Now I'm excited to watch it. Since it's also coming out On Demand, I'll be able to watch it at home! It might even be nostalgic!"
No doubt, it will be. This film is directed by Conrad Vernon and Greg Tiernnan, who also directed the original Addams Family movie. If not familiar with their names, though, most are familiar with their movies. Vernon has directed such blockbuster hits as the Shrek movies, the Madagascar movies, and even the Bee Movie. Tiernnan is best known for directing most of the Thomas & Friends movies.
Fans can still expect the wacky and off-beat antics that have made the Addams family members so iconic–especially during the Halloween season. However, there have been a few changes to the cast since the original Addams Family movie. Finn Wolfhard will no longer be the voice actor for Pugsley Addams. Javon Walton will be replacing Finn. Bill Hader and Wallace Shawn have also been added to the cast. Hader will be voicing a new character named Cyrus, a scientist, while Shawn will take on the role of Rupert, Cyrus' father. 
"So put a witch's shawl on…A broomstick you can crawl on. We're gonna pay a call on The Adams family." But, if that's not convenient, just find a good spot on the couch, grab the remote, and visit them On Demand.