Curve Ball In Softball Program?
Elkhart's Middle Schools initiate softball program for younger team of girls.
The school merger may have thrown the girl's softball program a curveball, but Head Coach Craig Sears strikes back with a move of his own. 
When the merger occurred, some players chosen to leave the sport altogether, making some fearful that it would cripple the program. Yet, Sears was able to help EHS softball reach th
e rank of 8th in Northern Indiana. But, he didn't stop there. On deck: expanding the program to the middle schools. And, that is exactly what Sears did.
"Well, I mean you can't just expect kids to just come into high school and suddenly want to play softball," Sears explains. "With the chance for us to get a middle school softball program going, it helps us get the girls quicker, sooner, and get them to start learning the game–this will just make for better softball in Northern Indiana."
But, Sears's plan doesn't end there either. "My next goal is to expand further down into elementary schools soon. We are working hard; it's fantastic!" And, he has reason to be optimistic. "We have 20-plus kids who came out to sign up and have been here every week. It's awesome!"
On Aug. 22, the middle school Lady Lions Softball team went 1-2 playing Fairfield and Wawasee. With smiles on all the girls' faces, they seemed extremely proud to be out there with their school name on their jerseys. The coach's granddaughter–Payton Sears–is among them. "I'm most excited to face faster pitching and hit better this season!" She exclaims.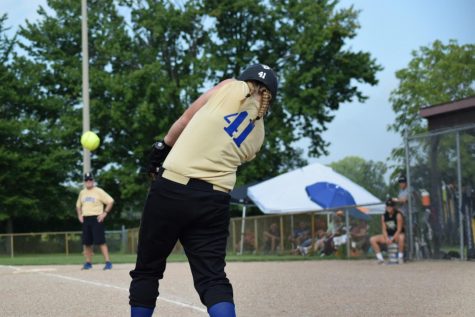 After a long day of playing the field, teammate Fionna Topolski says, "It's a good opportunity for the girls who have not played softball to learn the game and get better." But, Topolski wasn't the only player with strong feelings about the program. Michiana Repetition player Bailey Harris-Rogers is ecstatic to put on a Lions jersey. While wearing the No. 24, she expressed this: "My favorite thing about the program is that I am getting extra practice while meeting new girls!"
With the rest of the fall season to go, these girls are hungry to see what new heights they can reach. Considering all that has been achieved thus far, this middle school program and the players themselves are clearly winners.