Setting Sail On A New Adventure: Retirement
Principal Frank Serge and Administrative Secretary Rosemary Krull retire after dedicating decades to students.
Like the captains of great ships, principals must navigate the often choppy waters of education. At their side is a crew of dedicated individuals who see them through these storms. However, Captain of Elkhart High School-East—Frank Serge—and his first mate Rosemary Krull, administrative secretary, have set sail for the last time and will both say farewell to their careers here when they reach port at the end of this year.
Principal Frank Serge has done countless things for the people in Elkhart community schools. After 45 years in education, he has decided that it is time to retire. 
Mr. Serge began teaching at Pierre Moran Middle School for one year until he moved to North Side. He had a degree in biology and chemistry and taught science, while also coaching football, track, and wrestling. After that, he moved into administration.
"It started with our assistant principal getting sick," Mr. Serge recalls, "and I was asked to come into the office to help out. I then became the Assistant Principal the following year and stayed for five years." Mr. Serge moved to John Young in Mishawaka as a principal for two years, then came back to Elkhart Central as Vice Principal. After just two years, he became Principal—and has been ever since.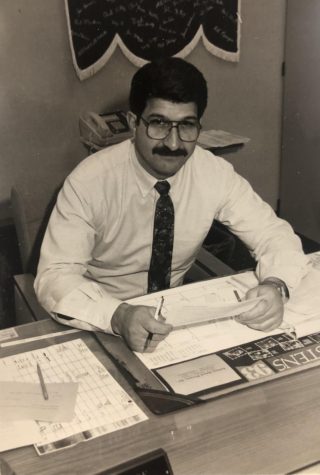 In Mr. Serge's career, he's done everything from teaching and coaching to overseeing multiple renovation projects. However, the most arduous task during his entire career may have been the transition of this school as it merges and moves forward as Elkhart High. While he does admit that it has been taxing at times, it is the students that will remain forever in his memory."It has been amazing to watch students grow and mature and graduate from high school—I wouldn't change any of it!" 
Another long-time part of the Elkhart school community, Mrs. Rosemary Krull, is also retiring this year. Mrs. Krull has been the administrative secretary at Central for 24 years but has worked for Mr. Serge for 29 years. She does everything from assigning substitute teachers on a daily basis to payroll information to preparing communications from Mr. Serge to the staff—as well as any other task that comes her way. 
Mrs. Krull has gone above and beyond to help any teacher or student that is in need. Whether it be a winter coat for a student, or thoughtful gifts for her coworkers, she has always been there to lend a hand and spread her kindness through the school.
"I will miss the people the most, because I have formed true friendships with them over the years," she begins. After reflecting for a moment, Mrs. Krull adds. "And, I will also miss seeing Mr. Serge everyday, and I will miss the students."
However, there is one thing that she will never miss: "I will not miss the 5:00 a.m. alarm!"