Over-Worked And Under-Appreciated
Students should take the time—not during Teacher Appreciation Week—to see how they can assist those who invest their time and money to educate them.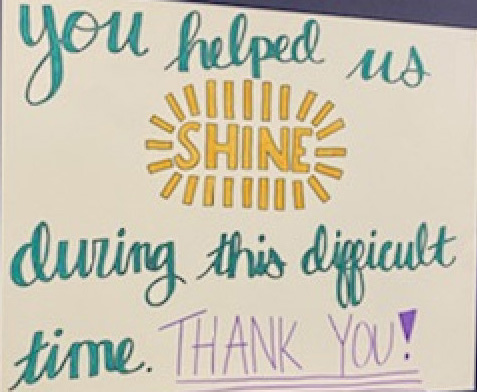 It is without a doubt that some of the most selfless people that enter one's life are more often than not…teachers.
Teachers have existed since the beginning of time and are still under-appreciated, not only by their students but also their representatives. Teacher Appreciation Week is often a week filled with gifts or lunches for teachers, but the reality is these selfless individuals deserve more.
In the midst of a pandemic, many teachers are pushing through and taking actions to not only teach their students but also to advocate for them. Many are going above and beyond: creating assignments that are inclusive, accepting late work, and taking time out of their busy schedules to provide extra help for those students in need. Jenna Krieg, an Elkhart-East senior, believes that these teachers are doing an amazing job this year. She goes on to say, "Teachers deserve  so much for all of the hard work they put into their jobs, and we should celebrate them!"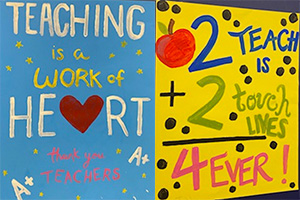 And, that they did at Elkhart-East. NHS students prepared goody bags filled with sweet treats; they made EHS masks to commemorate this unusual year; They produced an outstanding video of students sharing their appreciation; and, they created posters for the Media Center to display, expressing the thanks of all students.
Administration joined in with everything from cake, donut, and sub sandwich days to a food cart going room to room, with Mrs. Berheide and Mr. Bird personally handing out the treats. In fact, they spared no expense in honoring teachers this year. But, no matter how much they did this week, it does not  compare to what a teacher provides day in and day out.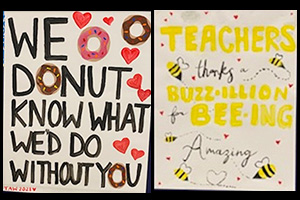 Many students remember hearing that old saying, "Take good care of the supplies we have. I bought it with my own money!" For students, that phrase often holds no particular meaning. However, that phrase shows  just how invested many teachers are in their students' learning. It's no secret that countless public schools lack adequate funding to properly educate their students. Despite this, many teachers have gone out of their way to give every student the best education they can.  Nichole Bloom, another Elkhart-East senior, admits, "Teachers don't get many benefits and are very overlooked and unappreciated. I think they deserve a good shout out every once in a while!"
Teachers are often put in these important situations, but despite a pandemic, low funding, and criticism, they preserve—all for their students. Instead of a week filled with gifts and simple tokens of appreciation, why not take the time to ask if they need help?