Video Game Is In A (Rocket) League Of Its Own
Season 3 of Rocket League makes it easier for beginner players to jump into the game.
May 5, 2021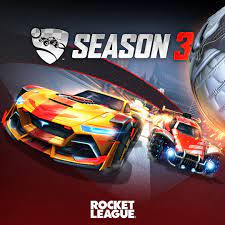 Pulling off a ceiling shot Musty Flick! Learning the art of the Pinch!
Rocket League is really kickin' it in terms of video games. With Season 3 having just been released in early April, gamers have been enjoying the intensity of playing soccer from behind the wheel of a sports car since 2015. It's a wild morphing of sporting events, for sure—but it works.
Season 3 brings with it new cars, skins, decals, wheels, etc. And, they've made it easy for people to get ranked higher and quicker. The mechanics allow them to move easier and jump a lot higher than they ever could before. "The way you can move around is slower," states Aubrey Lax, a sophomore at Elkhart-East. "But, when you jump, you can jump! You could also fly," she adds, "and its so cool!" One of the obvious appeals to the game are the cars. "I love the new cars!" shares Lax. "They have a Lamborghini car…" she tosses in, drifting off as she imagines this expensive set of wheels. 
For the novice players, they have it easy. They could just get carried or they could even win, getting a higher rank they are not supposed to play in. The ranked levels are specific: (from lowest to highest) Bronze, Silver, Gold, Platinum, Diamond, Champion, Grand Champion, and Super Sonic Legend–or SSL's, as they're called in the League.  Extremely good Rocket League players probably don't appreciate competing against more novice players since they need people at their own level to get to the next rank. In this level of game, they must be masters of aerials, ceiling shots, wall shots, air dribbles, different types of flicks, and so much more.
The SSL's are undeniably the best of the best. They can do the strangest goals and are very mechanical. They know the angles, where to shoot, and when to shoot. They know how to block or save goals quicker than most. Well-known SSL's nationally are Daniel Bluett, Squishy Muffinz, Jacob Knapman, Justin Morales, and Garret Gordon. They are to Rocket League what Tony Hawk is to skateboarding. And, for this level of player, there could be money involved, as there are competitive championship games against players around the world.. 
Anyone just trying out Rocket League will soon discover that there are plenty of amazingly talented players out there who can do crazy tricks. But, it comes with hours and hours of gaming to get to that level. As with anything in life, a person gets back what he puts in. That's what keeps Lax coming back for more. "I'm a low rank," she admits, "but I'm still practicing until I get better. Eventually," she concludes, "I'll be a very good Rocket League player."
Now, that's a Super Sonic goal!