Marvel: America's Film Hero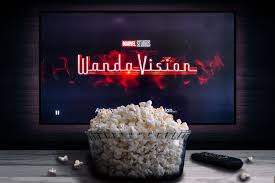 "Avengers…assemble!" – Captain America
Throughout the years, Marvel has produced a variety of movies—from Captain America: The First Avenger  to Endgame. It has thrown its audiences more engaging plots and twists, leaving them with cliff hangers and wanting more. The MCU ( Marvel CinematicUniverse) can be very tricky to keep track of the timeline, however, going from the original six Avengers to adding more superheroes and allies throughout the phases. Fans have witnessed most of these Avengers get their own movie, following their growth development, their relationships with others, and even their tragic deaths.
Marvel did not disappoint this year. It had originally planned to release the  Black Widow movie last year, but due to COVID, it was postponed until July 9, 2021, so fans could watch it in the theaters. 
Black Widow, however, is not the only production MCU had in store for its audience. January 15 saw WandaVision released on Disney Plus, which takes place after Endgame and explores how Wanda made her own reality with Vision. Each episode features a different decade and a type of sitcom, all leading back to her past and being in pain. A new episode would come out each Friday, ending with the ninth episode on March 5.
Fans went absolutely insane about this show! But, wait! On Friday, March 19, Marvel released The Falcon and the Winter Soldier first episode. The show is supposed to be based on Bucky Barnes and Sam Wilson, a dynamic duo, and what their life is like after the battle with Thanos. Like WandaVision, it comes out every Friday but is supposed to only have six episodes. Never fear, though. There is a host of upcoming films on the MCU horizon: Loki (June 11) and Spiderman: No Way Home( Dec.17).  
Keja Wynn, a junior at Elkhart-East, says, "It's interesting to see some of the characters' background stories and watch how they grow from past experience. Also," she adds, "it's interesting to see the after effect after Endgame—watching how they handle the other heroes' deaths and what they have been up to in their current lives." Wynn goes on to say, "Seeing some underrated characters getting their own shows and films is very exciting."
So, how does it feel to that Marvel bring back some old characters who died, going back to a previous time before their deaths to make a show or film? Wynn responds. "It's a very striking idea for them to fill in some gaps about some of the characters like Black Widow and Loki. It doesn't ruin the other plots; it just adds more."
With fan excitement continuing to grow, Marvel's captivating ideas will also keep mounting as more and more is revealed about each character in each film. If nothing else, Marvel will make sure that this world never runs short on heroes.