Off He Goes Into The Wild Blue Yonder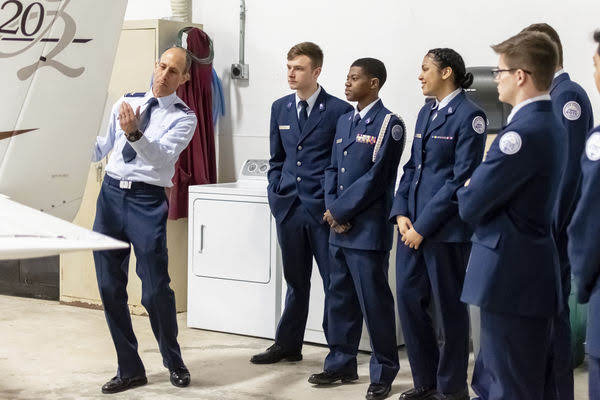 "It's MORE than wanting to be in the military; there's something for everyone!" says retired Col. Frank Rossi, instructor of the JROTC at the Elkhart-East campus. 
The Air Force JROTC's mission is to "develop citizens of character dedicated to serving their national and community." They serve with food drives and distribute food throughout the community, allowing students to learn the value of citizenship.They practice leadership (including drills), Aerospace science (including the history of aviation), and even wellness (including physical training). 
Not only is this program offered as a class, there are many other extra curriculars, such as being part of the Raiders, Drill Team, and Color Guard.These programs offer students the opportunity to gain personal responsibility and the feeling of accomplishment. An example of a monumental accomplishment just occurred on Feb. 26, when the Raiders competed at the All Service Raider National Championship in Molena, Georgia, coached by Major Jeff Dorman, instructor at the Elkhart-West campus. They captured 6th place.
"To hear that we got 6th place, I was in shock," confides Cadet Nathan Foster, a junior at Elkhart-East. "This was the top competition for Raiders in the nation, and we were Top 10." With pride, he adds, "We weren't just the Air Force team that people mocked at the state competition anymore. We were a force to be reckoned with. I'm ultimately amazed with what we did…and anxious for what we can do!"
However, Foster also recognizes that the strength of the program relies on the strength of its leadership. "I was absolutely thrilled to be given the opportunity to compete in the national championship," Foster asserts. "It was the first time that any team in our JROTC unit had been given the opportunity to go, and our team did not take that lightly."
So, what was their secret weapon for success? "Vigorous training several days a week, through the bitter weather conditions, made us tough." Continuing on, Foster states, "We were ready to take the bull by the horns and win. We fought until we had absolutely nothing left in us–burning the candle at both ends."
This was an elite team, for sure–one that Foster hopes will stay intact next year. As evidenced by their competition ranking, these 26 Cadets were up to the challenge. With the schools merging, the hope is that the number of students increases to around 70 highly qualified Cadets.
Col. Rossi, instructor of the JROTC at the East campus and past coach of the Color Guard and Cyber Patriot has led this program here since January 2019. With his youngest son in college this year, however, Rossi has decided to relocate. Thus, in the fall  of 2021, he will be leaving Elkhart High School to live closer to his elderly parents on the West Coast. There, he will forgo his role as a JROTC instructor and serve as a math teacher and cross country coach instead. Although his absence will not affect the continuation of the  program, he will be greatly missed by his students and staff members.
"Col. Rossi has meant a lot to all of us," Foster confides. "In JROTC, it's more than just a teacher, it's a mentor." Pausing for a moment, he adds, "Colonel was that, if not more."
As a part of the  JROTC for two years before moving to the Reserve program due to Career Center commitments, Foster reflects back over his years. "During my experience, I had the pleasure in seeing our organization grow. Col. Rossi was a vital part of how our program grew. I know it pains Colonel to have to move: however, I know he is moving on to great things."
Likewise, Col. Rossi believes there are great things in store for the Cadets here. His farewell message to those in Elkhart is to become involved in the JROTC program. "All students are welcomed," Rossi insists. "It is not only for students interested in joining the Army but students who want to become better students and citizens."
About the Writer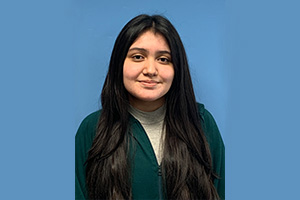 Nerlyn Martinez-Esqueda, Writer-East
Hello! My name is Nerlyn. I'm a sophomore at Elkhart-East. I was asked by my counselor if I wanted to join the Pennant because it fit in my schedule; I...