COVID Vaccine: A Shot In The Dark
As ready as all are to find a cure for COVID, many fear the unknown effects of a new vaccine.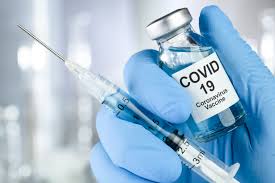 It may be a shot in the dark, but the world is pinning all its hopes on an effective vaccine.
As Americans approach the end of the year, there is an urgent need to get the COVID-19 vaccine out there. Some people in the U.S. have already taken it–in particular the nurse in Brooklyn, Sandra Lindsay, who was the first recipient. Many locally are concerned, however, about what will happen after the vaccination is distributed.
Brenden Balyeat, a sophomore at Elkhart-East, says he wouldn't be comfortable taking the vaccine."I feel like I'm being safe when going out and even around the house with my parents." He goes on to say, "I wouldn't be okay with taking the vaccine, just because I'm not aware of everything going on with it."
At the beginning of the year, it seemed as if many people were all on board with taking a vaccine. It's almost as if the public just wanted to "get it over with" and continue on with their lives. However, now that the vaccine is more of a reality, the number of people who are willingly going to take it has gone down–or at least their fear of it has gone up. The reality is that they would feel safer after further testing is conducted. But, the reality is that a vaccination may be the only way to combat this virus.
It's understandable for people to be worried about this. It's something new–and no one wants to become a "guinea pig." In deed, there are so many unknown factors that play out with any new vaccine: race, age, and even environmental factors. The first couple of vaccines by Pfizer have caused stronger fevers and a number of unexpected side effects, unlike any other vaccine. Fortunately, nothing has proven too serious, as the symptoms don't last for long.
Even knowing this, some are more than willing to take it–but not all. "I don't think I would take the COVID vaccine yet, just because it's still a very new thing," admits Elkhart-East sophomore Alexis Gullet. She continues, adding, "I just want it to be safe and look out for my health and those around me."
Everyone's health is a top priority and should be taken seriously. After all, as a community and nation, there is great hope that this vaccine will finally get this pandemic under control and that 2020 can be put in the past. No matter what, though, life will never be normal after this year–which is not a completely bad thing. Change is sometimes necessary…and always a gamble.